Used Chevrolet Silverado 1500 Buying Guide
Used Chevrolet Silverado 1500 Buying Guide

Inventory
The Chevrolet Silverado 1500 is a full-size, light-duty, half-ton pickup truck, with heavy duty models in its lineup for towing and hauling. With several cab configurations, bed lengths, engines, and trims, this full-size truck has a lot to offer. Come to Burlington Chevrolet to find out for yourself.
1999-2006 Chevrolet Silverado 1500 – First Generation
The Chevrolet Silverado 1500 was first released in 1998 for the 1999 model, replacing the C/K pickup and having a more aerodynamic look. It had a classic body style that came in three cab styles: regular cab with two doors, extended cab with four doors, and crew cab with four front-hinged doors. You could choose from three cargo beds: a 69.2-inch short box that only came with the crew cab, a 78.6-inch standard box, and a 97.6 long box. Its power came from either a carried over 4.3-liter V-6 or two new 4.8 and 5.3-liter V-8 engines. These models had a towing capacity of half a ton, three-quarters of a ton and one ton. In 2004 a Heavy-duty version became available.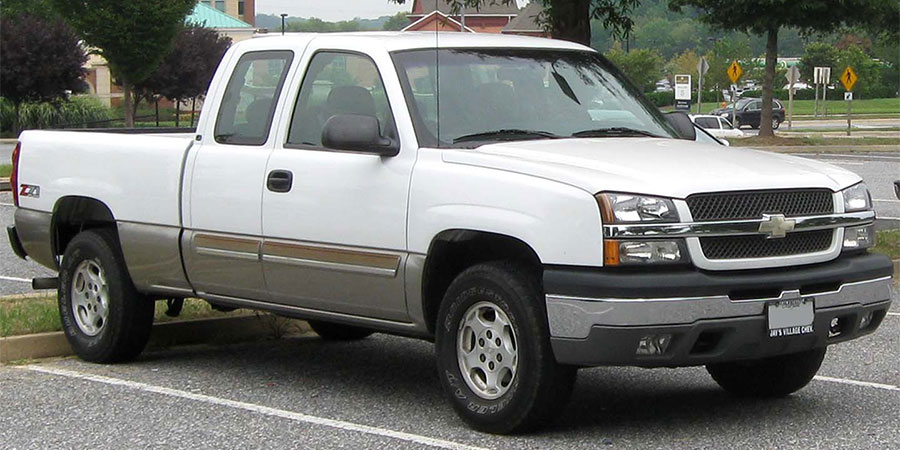 2007-2013 Silverado 1500 – Second Generation
A new front frame design carrying a new coil-over shock front suspension and rack-and-pinion steering came with the second generation, as well as improved fuel economy and two or four-wheel drive options. It now offered five trims, with a higher-level LS trim that added full-power accessories, cruise control, and keyless entry. New V-8 engines offered more power, with a 367-hp 6.0-liter Vortec 6000 and the 403-hp 6.2-liter Vortec 6200. They were paired with a new six-speed automatic transmission. It had a maximum towing capability of 10,500 lbs. Added available safety features included stability control, side curtain airbags, rear park assist, adjustable pedals and navigation. In 2009 a two-mode hybrid made a short-lived appearance. In 2008 the Silverado was standard with satellite radio and in 2009 some models came with a rearview camera.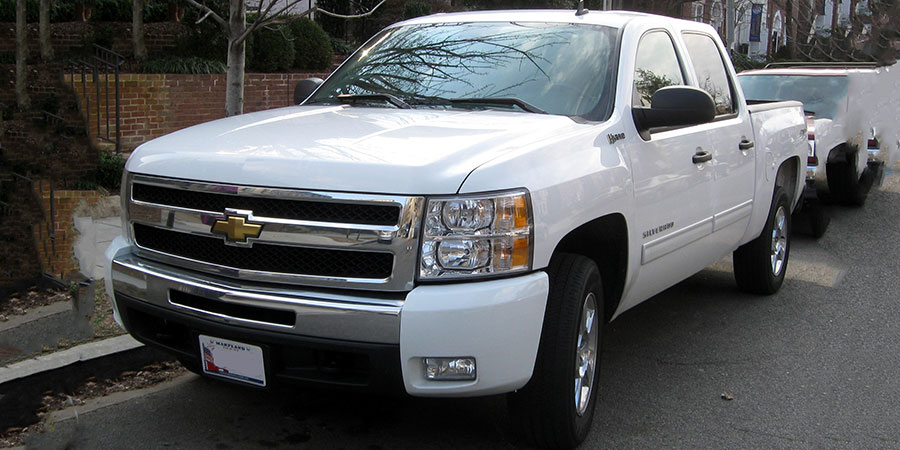 2014-2018 Silverado 1500 – Third Generation
This generation's model was quieter and smoother, and more power-efficient than the previous generations; and it featured a new interior. The exterior made some changes and now had sculpted and full-width bumpers and used more aluminum and high-strength steel. The Silverado increased its power from 195 to 285 hp in the V-6 engine, and an option for a more powerful 420-hp 6.2-liter V-8 engine became available. New technology on all engines increased fuel economy, with direct injection and cylinder deactivation. In 2015 optional Wi-Fi was available and in 2016 Chevy offered Apple CarPlay, and Android Auto. A 7-inch touchscreen radio and backup camera became standard in 2018.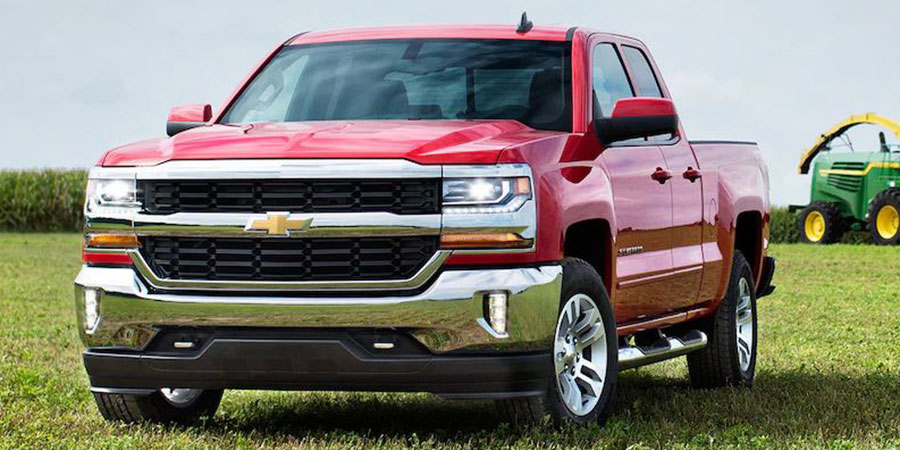 2019-2020 Silverado 1500 – Fourth Generation
Redesigned in 2019, the Silverado's hood, doors and tailgate are now constructed with aluminum, while high-strength steel makes up the body and frame–lowering the trucks' total weight. Powertrain choices include a turbo-diesel 3.0-liter six-cylinder engine with an all-new 10-speed automatic transmission and an optional 2.7-liter turbocharged four-cylinder engine that makes 310 hp and is paired with an eight-speed automatic transmission. The Chevy Silverado can now tow up to 12,500 pounds. Eight trim levels are now offered to cover all buyers needs, including a High Country trim with 20-inch aluminum wheels. Options include forward collision warning and low-speed auto braking with pedestrian detection.