SCA Performance Black Widow
SCA Performance Black Widow

Inventory
If there were a beauty pageant for lifted Chevy trucks, adding the Southern Comfort Black Widow package would help you take home the crown every time. The Black Widow's style upgrades attract the right kind of attention – whether you're on the traveling suburban streets, parked at the tailgate party, or headed deep into the uncut wilderness. On its own, your American-made Chevy truck is naturally handsome and rugged. Add the Black Widow features though, and your Chevy literally radiates style (and we're not just talking about the red interior LED lighting). Chevy trucks are naturally popular, pleasing the masses with muscular powertrains and off-road capabilities. Couple all of that with the Southern Comfort Conversions Black Widow package and you've got a rugged luxury vehicle on your hands.
Start with a Chevy Truck
Throughout its remarkable history, Chevrolet has engineered some of America's most iconic trucks. This includes the Chevy Silverado and Colorado – both of which are tuned for adventure, sending you into rugged territory as easily as they pull your favorite toys.
In the mid-size Chevy Colorado, you get more than a bold performance – you get options. The 2019 Colorado offers two cabin options (extended and crew) and two bed lengths to optimize your cargo-hauling capabilities. The optional diesel engine helps you tow max loads of 7,700 pounds, an excellent figure in the mid-size segment.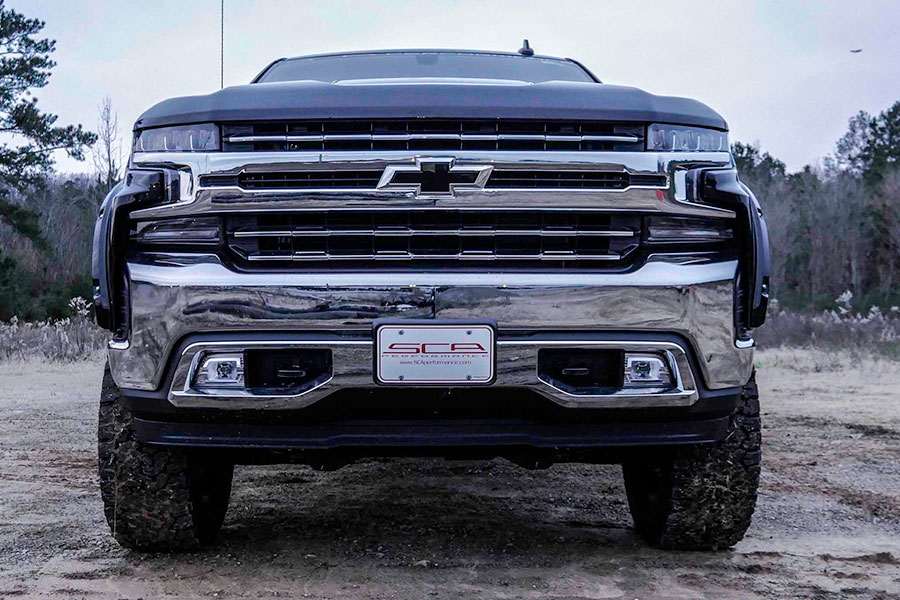 From hood to hitch, the Silverado 1500 puts a rugged spin on every aspect of driving. Those who choose the full-size Chevy Silverado 1500 can tow and haul extra weight, but they also get extra cabin space and a few extra configuration options. The redesigned 2019 Silverado is roomier than ever, thanks to its bigger cabin options (of which there are three: regular, extended, and crew). Modern features – like the rearview camera, easy lift tailgate, and high-tech driver information center – streamline your workday.
Southern Comfort Black Widow Edition
Some drivers wouldn't change a thing about their Chevy truck. We admit that rugged style comes natural to the Silverado and Colorado. But when you add the Southern Comfort Conversions Black Widow package, it's proof that you prefer the road less traveled. This style bundle makes a strong statement wherever you go – one that says you're one of a kind.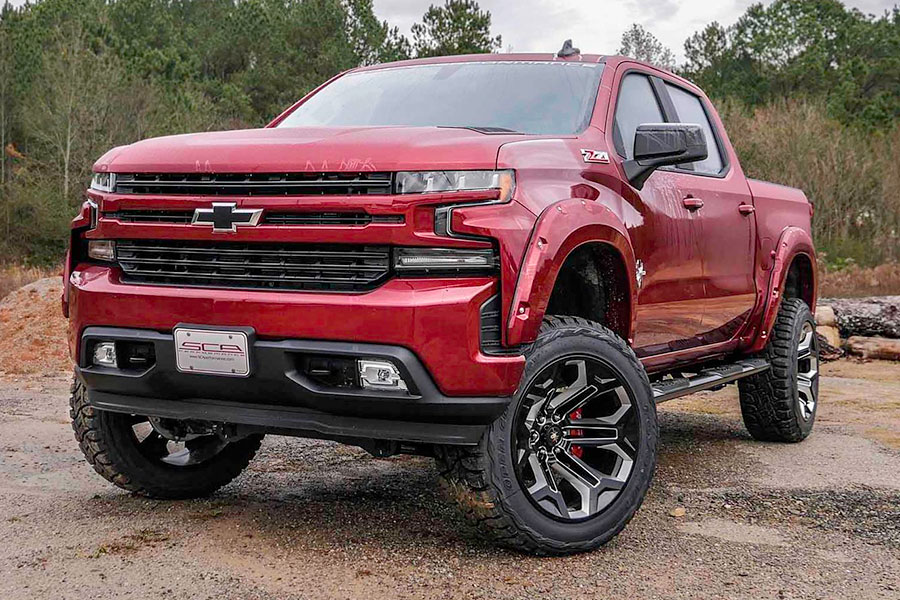 Black Widow Lifted Chevy Trucks
Since Southern Comfort Conversions first launched from an Alabama family garage, it's been transforming muscle-bound trucks into shiny, stylish muscle-bound trucks. Today, Southern Comfort Conversions is known as SCA Performance. Their classic Black Widow package doesn't just lift your truck; it also adds high-end luxury with optional leather seat covers and a full matte paint scheme. The Black Widow 20-inch black wheels with red calipers look sharp alongside the custom fender flares and black wheel-to-wheel side steps.
There's no shortage of Black Widow logos, either – the LED puddle lights even project a black widow spider onto the pavement. The Black Widow exterior badging is premium quality, but it's not too imposing. Inside, custom-stitched Black Widow headrest covers keep with the overall theme. If this particular bug has bitten you, give us a call. At Burlington Chevy, your Chevy dealer in NJ, we'll help you build your dream truck.