Chevrolet Silverado Reaper
Chevrolet Silverado Reaper
The Chevy Silverado Reaper isn't just the answer to Ford's off-road-ready F-150 Raptor – it leaves the competition in the proverbial dust. A joint venture between Lingenfelter Performance Engineering and Southern Comfort Conversions, the Reaper starts with a classic Silverado and reworks it from the ground up. The Reaper isn't just an off-road beast – it's an off-road beast with rugged style.
Chevy Silverado Reaper Power and Performance
Choose from two engine options, both of which underscore the Reaper's capable off-road performance with blazing horsepower. The options are: a 5.3-liter Lingenfelter-tuned TVS1900 Magnuson supercharger package: 475 HP and a 6.2-liter Lingenfelter-tuned TVS1900 Magnuson supercharger package: 550 HP. To achieve this high output, these engines use Lingenfelter's proprietary software and a CORSA Performance exhaust system. Whichever engine you select, your Silverado Reaper will never lack for muscle.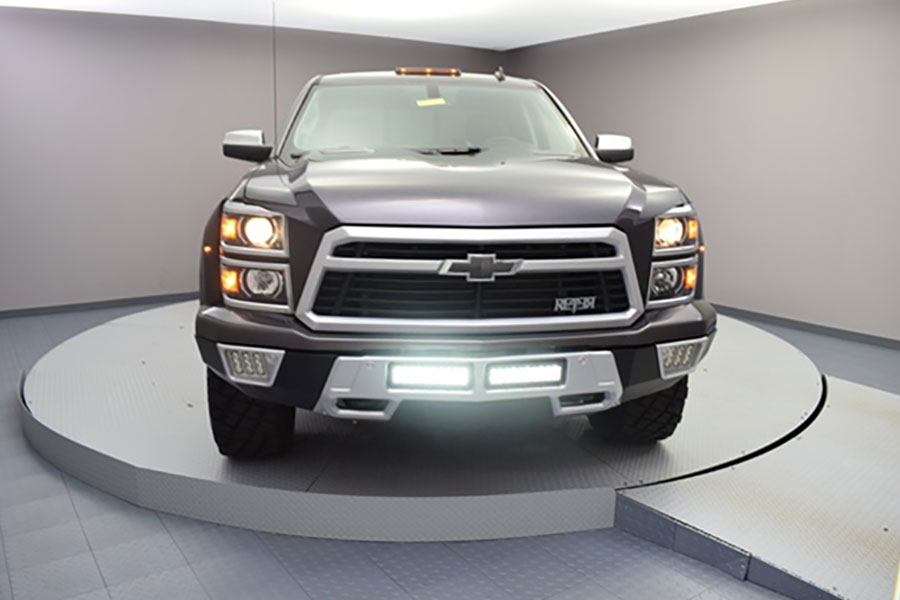 Reaper Standard Features
The Silverado Reaper upgrades cover everything from rugged suspension gear to stylish exterior trim. For suspension, you'll get: 20-inch General Grabber Tires, 3-inch Lift Long-Travel Off-Road Suspension, Brushed Stainless Skid Plate, Exclusive Reaper Wheels, and Fox Racing Shocks.
The exterior options include: Exterior Reaper Badging, Fender Marker Lights, High Clearance Front Bumper Replacement, Integrated LED Driving Lights, Integrated LED Off-Road Lighting, Lingenfelter Exhaust Package, Painted Interior Accent Pieces, Reaper Door Panel Accents, Reaper Embroidered Headrest, Reaper Gauge Package, Restyled Front Clip with Reaper Hood, Wheel-to-Wheel Rock Guard, and Wide Body Fender Flares.If anything, this long list of features – which add to both the Silverado's performance and rugged style – shows that the Reaper package covers all the bases.
Optional Upgrades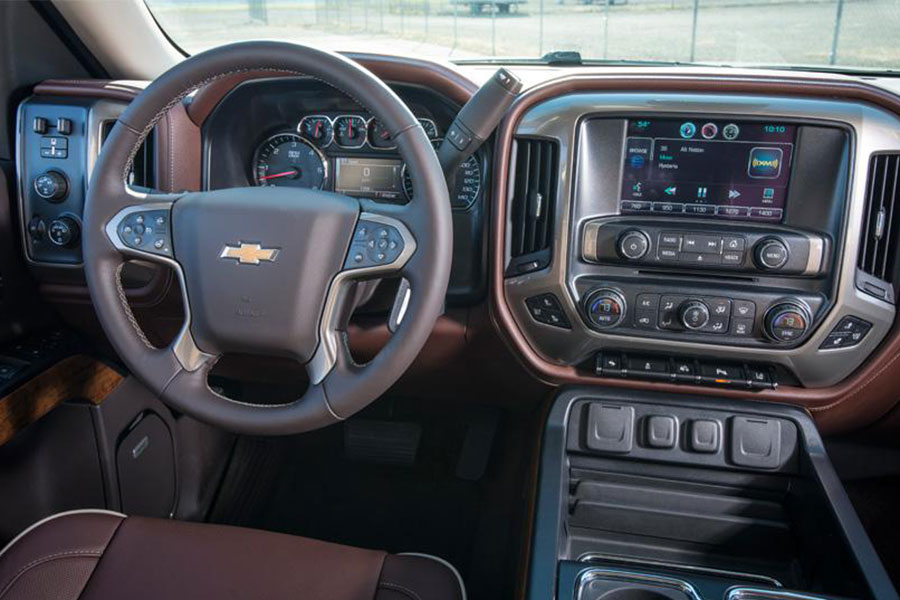 The standard Reaper features get you off to a good start. But some Chevy drivers are thirstier. Luckily, Southern Comfort and Lingenfelter saw these drivers coming. Here's what else is on offer: 17-inch Beadlock Performance Wheels, Frozen Matte Paint Finish, Grabber Red Letter Tire Package, Lingenfelter Performance Engineering-Tuned, and Magnuson TSV1900 Supercharger available on 5.3L or 6.2L Engines along with the Reaper Graphics package.
Take the High Road
The Reaper's Fox Racing suspension gear provides an extra 3 inches of lift, so you can traverse higher ground with the best of them. Whether your preferred adventure consists of sand, mud, rocks, or snow, you'll be able to clear new heights. The Fox Racing 3.0 factory series shocks provides 9.2 inches of front travel and 11.2 inches of rear travel. With that kind of clearance, there's basically nothing the off-road-ready Reaper can't handle.
Moreover, the skid plates and another 8 inches of front clearance from the overbite make the Reaper invincible in mountainous territory. Drivers can hurtle over fields of boulders and roadside curbs without a second thought.
Be Wild and Free
Since the Reaper exists to be Chevy's answer to the infamous Ford Raptor, it almost can't help but reference it a little bit. ("We love to stoke the Ford guys a little bit," Ken Lingenfelter said at the Chicago Auto Show.) For example, you'll find Reaper badging splashed across the rear quarter panel, an obvious allusion to an earlier version of Ford's off-road ride.
But the Chevy Reaper isn't exactly a laughing matter. It's quite the opposite, in fact – this truck's off-road capabilities are 100 percent real. On desert trails, you can push the Reaper to 60 mph, and the suspension can take some serious punishment as you plunge over hills and into dry streambeds.
How Much Is the Chevy Silverado Reaper?
There are three versions of the Reaper available from select Chevy dealers. Prices start in the mid $50,000s, climbing another $10,000 or so for the fully optioned, supercharged Reaper. Contact us at Burlington Chevy to learn more about the Reaper, a custom-built package from Southern Comfort Conversions and Lingenfelter Performance Engineering.