2019 Chevrolet Silverado 1500
2019 Chevrolet Silverado 1500
The all-new 2019 Chevrolet Silverado 1500 is as rugged as ever, delivering upgraded engines, performance gear, and off-road-ready hardware for adventurous drivers.
What's new for the 2019 Chevrolet 1500?
This full-size pickup truck is completely redesigned for 2019, with improvements in power, performance, interior comfort, and technology. Crew cab models are now longer, expanding backseat leg room for an increasingly comfy family road trip. The new touchscreen infotainment interface is both attractive and easy to use. With plenty of in-bed tie-down points and massive bed options, hauling sizable cargo has never been so simple.
Which trim 2019 Chevrolet Silverado 1500 model should I choose?
With eight trim models available, the 2019 Chevrolet Silverado 1500 offers everything from a rugged work truck to an upscale family hauler. The entry-level Silverado 1500 is the Work Truck (WT). This hardy pickup comes standard with all the modern basics, including air conditioning and complete smartphone integration, with Apple CarPlay and Android Auto. Next up is the Custom trim, which introduces greater utility with front tow hooks and remote entry technology. Upgrade to the Custom Trail Boss for standard four-wheel drive, the trailering package, and the off-road-ready supplies of the Z71 suspension package.
The 2019 Chevrolet Silverado 1500 LT is where things start to get a little more tech-savvy. This pickup includes OnStar emergency telematics, giving you quick, easy remedies when you need help with a breakdown or after a crash. OnStar also delivers 4G LTE and Wi-Fi connectivity, so you'll never be stranded without an internet connection. When you're constantly loading and unloading the truck bed, the RST saves you time with a power-locking and power-release tailgate. The LT Trail Boss gives you a luxurious off-road ride, with rugged four-wheel drive to go along with the LT's tech upgrades.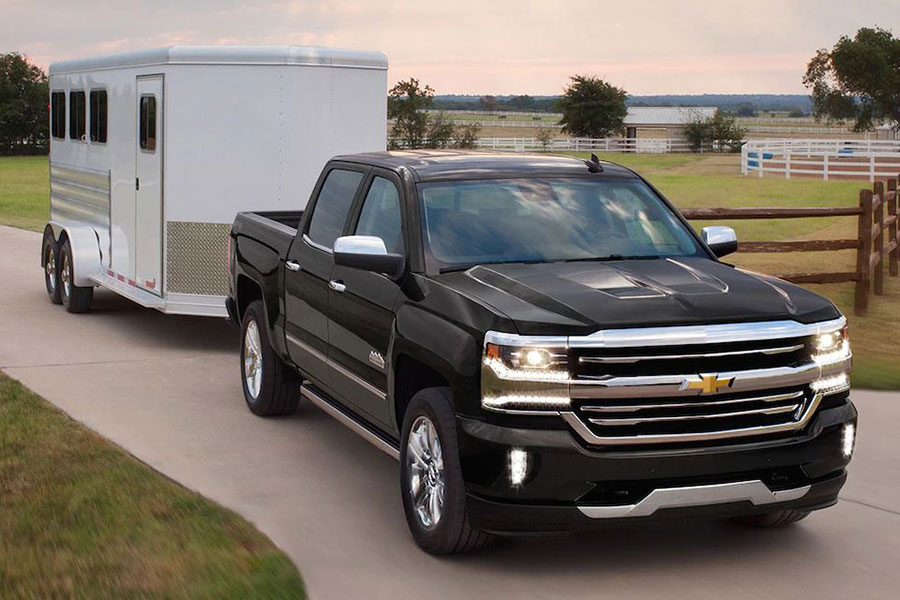 If it's luxury you're after, you'll find it in the LTZ and High Country Silverados. The LTZ introduces dual-zone automatic climate control and leather upholstery to impress your clients and crewmates. Opt for the High Country for extra style, including 20-inch chrome wheels and chrome side step rails. The High Country also increases driver vigilance with high-tech safety items like blind-spot monitoring and rear cross-traffic alert.
In addition to eight trim models, you can combine bed and cabin sizes to create the amount of passenger and cargo space you need. Choose the four-door extended Double or crew cabin for backseat space to haul your crewmates or kids around. With the regular cabin, which seats three across in its standard bench seat, and the long 8-foot bed, you can haul max cargo loads. That makes this configuration the right one for drivers with substantial hauling to do.
What can the 2019 Chevrolet Silverado 1500 tow and haul?
This newly redesigned truck is both lighter and stronger than previous models, thanks to its tougher steel frame and aluminum doors, tailgate, and hood. So, what does that mean for drivers looking to max out the Silverado 1500 capacities? With the 6.2-liter V8 engine, this full-size pickup can tow up to 12,200 pounds. When the 3.0-liter turbodiesel engine comes out later this year, it's expected to tow even heavier loads. However you look at it, the 2019 Silverado 1500 can move some serious weight, whether that's your family camper or a double horse trailer.
Depending on body configuration and powertrain, the 2019 Chevrolet Silverado 1500 can haul payloads between 2,100 and 2,500 pounds. You'll be able to load the truck bed with company supplies and lug them around town, no problem. The same goes for camping gear and beach-going supplies.
What work-friendly features are available?
The newly redesigned 2019 Chevrolet Silverado 1500 is ready for on-the-job action. Trailer monitoring systems are available to help you monitor tire pressure or connect a rearview camera to the back of your trailer. These extras help you stay safe and maximize performance when you've got a large, heavy load in tow. The Technology package includes an in-mirror rearview camera display, giving you greater visibility as you pull out of a narrow lane.