Used 2017 Chevrolet Bolt EV

A mainstream electric car that's practical for any driver is nearly a holy grail for the auto industry–and the Used 2017 Chevrolet Bolt EV (short for electric vehicle) may just be that option. Chevrolet is making strides to overcome the high purchase prices, low battery range, and battery charging times that have plagued other models. While the Bolt EV may not entirely disrupt the gas-powered Chevrolet line up, it is a great option for eco-enthusiasts and forward-thinking buyers.
Used 2017 Chevrolet Bolt EV
Regardless of power, performance, practicality, versatility, fuel economy and all of that sensible stuff, one of the most important things that influences our purchasing decision is how a car looks. Until now, EVs at the more affordable end of the spectrum have either been regular cars with an electric powertrain dropped into them or models designed as electric-only and have a very different style. The Used 2017 Chevrolet Bolt EV bridges the gap, with a very attractive, traditional auto design but stands alone as an electric vehicle.
At the moment, any EV, regardless of how normal it looks, is still all about the electric powertrain. In the case of the Bolt, that comes in the form of a big, flat 60-kilowatt-hour battery pack sitting under the Chevy's floorpan, which then sends power to an electric motor that drives the front wheels. The motor certainly delivers a good amount of power at 150 kilowatts, or 200 horsepower. That electric motor has enough power to propel the Bolt from a standing start to 60 mph in just seven seconds.
When it comes to the all-important battery range, the Chevrolet Bolt EV offers good news to drivers. For a start, some good news comes in the EPA-rated range for the Chevy, an impressive 238 miles, far longer than most of its rivals. The better news comes from drivers, who note that the range can actually be longer in real world scenarios. Home charging can take overnight, up to 9 hours, but certain Bolt EV models can be equipped with DC Fast Charging, With this feature, drivers can get 90 miles of range in about 30 minutes of charging at public stations.

Bolt EV Premier
Contrary to most EV options, the Used 2017 Chevrolet Bolt EV doesn't offer a no-frills base model with a rock bottom MSRP, but instead offers a choice between two trims of LT and Premier. The LT is anything but a base trim, so the standard features include the likes of HID headlamps and LED daytime running lights, a rear-view camera, the regen-on-demand paddle behind the left side of the steering wheel, automatic climate control, a pair of USB ports, an 8.0-inch driver information center, and a 10.2-inch color touchscreen. Stepping up to the Premier trim then adds the likes of "ultra-bright" machined 17-inch aluminum wheels, roof rails, turn signals in the door mirrors, and surround-view in the center dash display.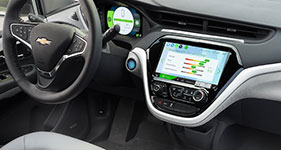 MyLink Infotainment
With a simple touchscreen interface, the MyLink infotainment system allows drivers to integrate their smartphone into their vehicle and stay safely connected.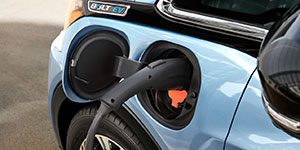 Customizable Charging Settings
Customize the way your vehicle charges by allowing it to recognize when it is approaching its "home" charging station.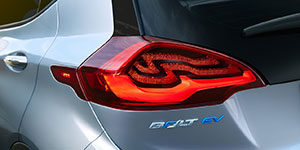 Unique Taillight Design
Stylistic and unique, the taillights set the Bolt EV apart from other compact vehicles on the road.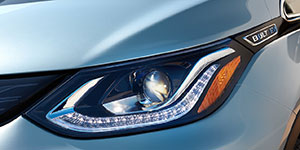 Daytime Running Lights
The Bolt EV embraces this safety option as a standard feature.
Conclusion
The Chevrolet Bolt EV is a mighty step forward for the practicality and real-world use of electric vehicles. With a stylish design, impressive features, and a much-improved battery range, the Bolt EV is a viable option for people who want an eco-friendlier option for their daily commute.