2022 Chevy Corvette Stingray
There's a reason images of sports cars adorn people's walls, desktop backgrounds, and phone cases. Sports cars turn heads like nothing else. A true masterpiece of sleek design and speed is none other than the 2022 Chevrolet Corvette Stingray. This supercar comes at a comparatively affordable price for its class and offers a multitude of options to customize it just the way you want with technology and color options. You can also choose from a multitude of racing stripes and designs to adorn it if you wish. All three of the trim choices; 1LT, 2LT, and 3LT, are available as either a coupe or a convertible and each are sure to give you an experience like no other vehicle out there.
Quick Specs
Starting MSRP Price: $60,900
Top Speed: 194 mph
0-60 Time: 2.9 seconds
Horsepower: 495 hp
Torque: 470 lb-ft
Seating Capacity: 2
Engine: 6.2-liter V-8
Transmission: 8-speed dual-clutch
Stingray's Speed and Performance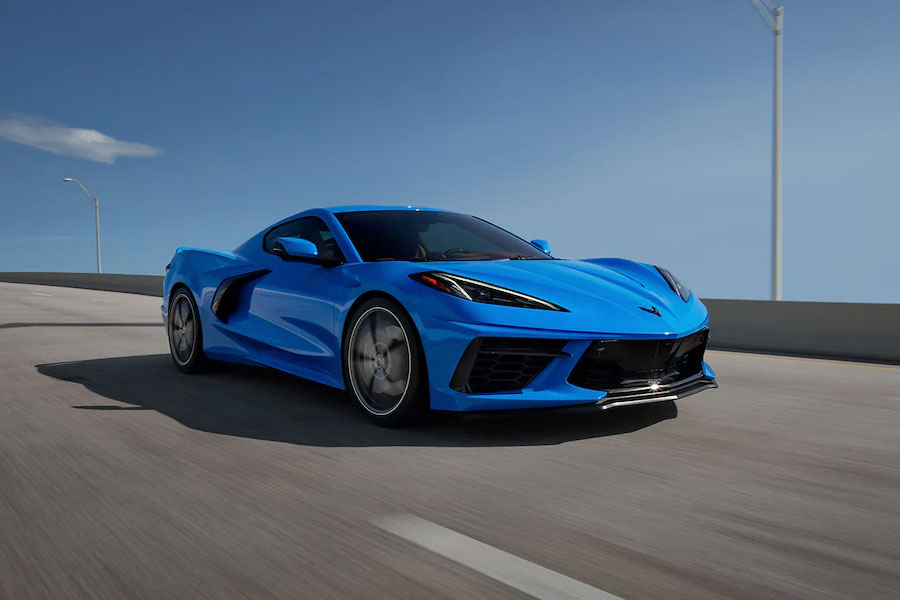 With superhero good looks, the Corvette gives the appearance of flying at supersonic speeds even when it is parked. When it's actually moving…it will knock your socks off. With the specially designed aerodynamics combined with the fantastic engine power of the 495-hp 6.2-liter V-8, you are sure to have fun driving this car. It has been recorded at having a zero-to-60-mph time of 2.9 seconds and can reach top speeds of 194 mph. Car and Driver reported a braking distance on their test car of 149 feet from 70 mph. Not that you will ever want to stop, of course.
The 2022 Stingray has the engine placed behind the passenger seat rather than in the front. This shifting of locations allows for a better distribution of weight, improved response times, and a better overall sense of control. Add on a Z51 Performance Package if you really want a smooth ride. That package will add a Z51 performance suspension, performance ratio rear axle, electronic limited-slip differential, and Z51 performance Brembo anti lock brakes.
Style and Aesthetics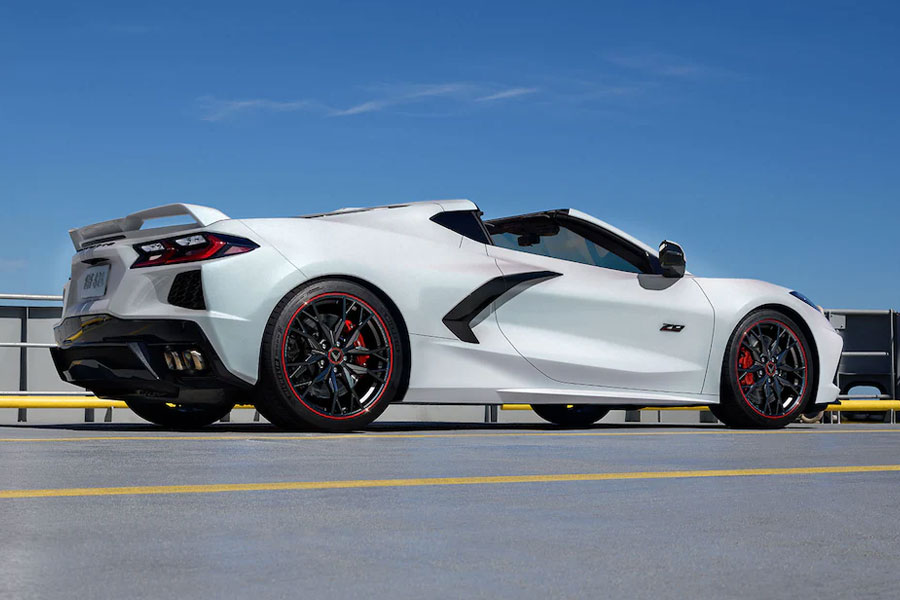 The clean lines and bold appearance of the 2022 Corvette Stingray make it a true work of art to behold. It provides 19-inch wheels in the front and 20-inch wheels in the rear, with two designs as well as two different spoke styles available. The door handles have been discreetly hidden to enhance the sleek aerodynamics of the supercar.
While sportscars are as low as possible to the ground and streamlined for wind, there are times that is a bit inconvenient. The 2022 Chevrolet Corvette Stingray has a Front Lift system which can, with a push of a button, raise the front of the Corvette almost 2 inches while crossing a speed bump or climbing a driveway. It then will remember based on GPS location so the next time you come to that obstacle it will seamlessly lift for you.
Interior Comforts and Technology in the Corvette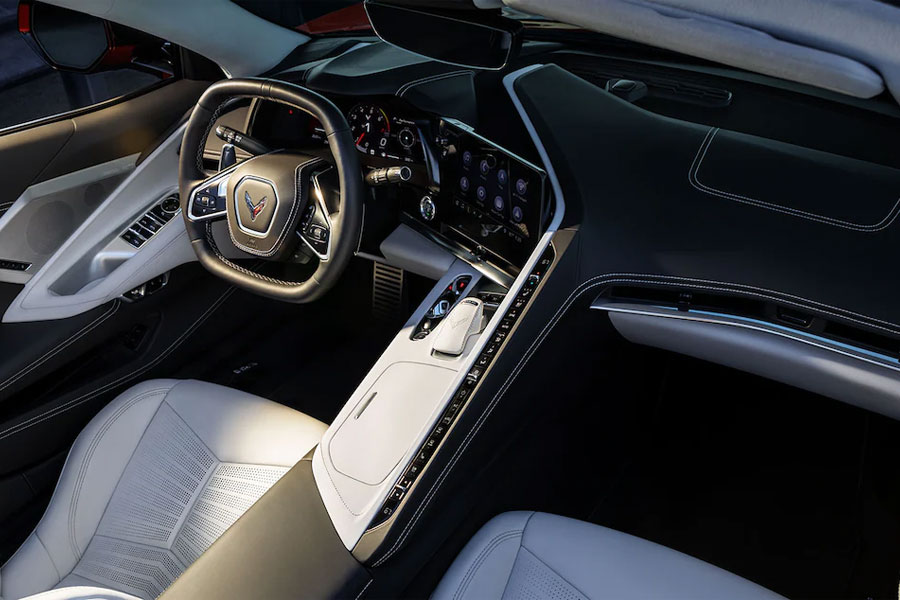 The Corvette is equipped with the Chevrolet Infotainment 3 system which syncs easily with your smartphone through Bluetooth, Apple CarPlay, or Android Auto. You also have the option of a wireless charger to keep that smartphone battery full while you are driving. A 12-inch reconfigurable heads-up display on the 2LT and 3LT models provide you all the pertinent vehicle information. And for everything else, there is an 8-inch diagonal HD color touchscreen, angled perfectly towards the driver. This is only a part of the experience, however. For all the trims, in the driver's seat you have an environment inspired by fighter jets with a steering wheel design of a race car.
The Driver Mode Selector for the Stingray allows you to easily switch between various calibrated modes for making your drive as smooth as possible. Pre-set modes such as weather, sport, tour, or track are now joined with My Mode and Z Mode which allow you to personalize your settings. These allow you to perfect your ride by calibrating up to 12 variables on your touchscreen display. These include settings such as Engine sound, Steering, Suspension, Brake Response and more.
Coupe or Convertible
All of the trims for the 2022 Corvette Stingray are available as either a convertible or a coupe. The convertible's power-retractable hardtop is capable of functioning at speeds up to 30mph, to easily let you change your mind on the fly, and seamlessly stows the top away so it does not deter from the aerodynamics of the car. Both can offer you the experience of the wind whipping through your hair however, as the coupe is equipped with a manual removable roof panel as well.
MasterH2
Corvette Stingray 1LT
Starting at an MSRP of $60,900, the 1LT is the base model. It is equipped with a Bose premium 10-speaker sound system, keyless open and start, rear park assist, an HD rear vision camera, and more. The Chevrolet Infotainment 3 Plus System with an 8-inch diagonal HD color touchscreen display is easy to use and offers Bluetooth, Apple CarPlay, and Android Auto capabilities for easily syncing with your smartphone. You can also make any 2022 Stingray a Wi-Fi hotspot with an OnStar subscription.
Corvette Stingray 2LT
At the mid-level tier, we have the 2LT starting at an MSRP of $68,200. The sound system is upgraded for both the 2LT and 3LT to a Bose Performance Series 14-speaker audio system. Heated and ventilated seats with the ability to adjust the lumbar and wing supports, and a heated steering wheel make the ride much more comfortable. Technologically speaking, the 2LT adds so much to the deal that it is a no-brainer. A heads-up display, wireless smartphone charging pad, a voice recognition navigation system, and a host of additional driver assistance aids to make the ride as safe as it is fun, all are standard on this trim.
Corvette Stingray 3LT
The 3LT has all the same amazing features of the 2LT, but with a little extra in the looks department. With a starting MSRP of $72,850, you get luxury in every detail. Choose from 8 interior color options, including the absolutely gorgeous Tension Blue/Twilight Blue which is only available on the 3LT. A custom leather-wrapped instrument panel and doors, sueded-microfiber upper interior trim, and Napa leather seats all combine to make this truly the Corvette of your dreams.
Why Should You Buy the 2022 Chevy Corvette Stingray?
Just look at it. The 2022 Corvette Stingray is a work of art and absolutely demands attention. With all the luxury and conveniences built into it, and the customization which can be done on the look, it is more a family member than a vehicle. Owning a Corvette is also owning a piece of history, as the brand has been around for nearly 70 years now. Truly, this performance-car is a masterpiece with its smooth ride, comfortable interior, energetic engine, and all the dopamine-releasing goodness of knowing you are riding in a Corvette Stingray.