Used Chevrolet Suburban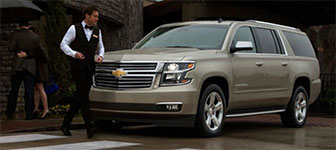 Overall, the 2015 Chevrolet Suburban SUV is among the most capable vehicles on the road. It attracts aficionados with its strong engine and impressive towing capabilities. A 5.3-liter V8 engine generates 355 horsepower and 383 pound-feet of torque – enough heft to tow up to 8,300 pounds. Both rear- and four-wheel drive are available to tailor performance to individual needs.
On the road, the Suburban doesn't disappoint. The V8 engine is more than powerful, delivering a smooth, refined ride. Even cruising at highway speeds, the Suburban cabin remains as hushed as a luxury vehicle.
Inside, this SUV feels cavernous, giving passengers all the space and support they require for long highway trips. Choose from the latest luxury features, including an upgraded touchscreen interface with smartphone integration. Advanced safety features, like the blind-spot monitoring system, enhance on-road awareness. The new third-row seat is adult-friendly and folds completely into the floor, increasing cargo space in a snap.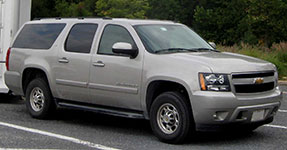 These SUVs were available as three well equipped trim models: the LS, LT, and LTZ. Passengers could always count on a smooth, comfortable ride. As in newer models, the Suburban cabin remained peaceful and quiet at highway speeds.
In spite of its size, the eleventh-generation Suburban was quick on its feet. The standard engine was a 5.3-liter V8 that generated 320 horses and 335 pound-feet of torque, providing swift acceleration. Heavy-duty 2500 models generated additional power, thanks to a 6.0-liter V8 rated for 352 horses and 382 pound-feet of torque. This generation is a favorite among those who like to transport heavy toys. Properly equipped, these models could tow nearly 10,000 pounds.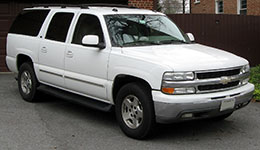 Family-friendly and efficient, the tenth-generation Suburban was known for its huge cabin and V8 power. With the available 8.1-liter engine, this Suburban had access to 340 horses and 455 pound-feet of torque. With each passing year, these models became increasingly comfortable and high-tech. Shoppers could add convenience features that included a DVD entertainment system and the OnStar telematics system.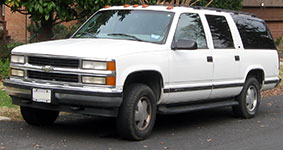 When this generation debuted, it introduced additional convenience with a lower step-in height. These models incorporated more glass, increasing visibility. In 1996, the Suburban got a new Vortec gas engine that generated 290 horses.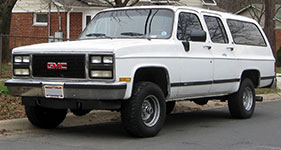 The first four-door models appeared during the eighth generation. Under the hood, the Suburban derived its power from a variety of gas and diesel engines. Shoppers could select either two- or four-wheel drive.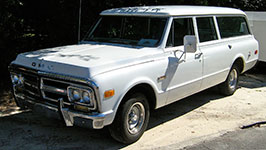 This generation could be had with a single driver-side door or two passenger-side doors. Four-wheel drive was available.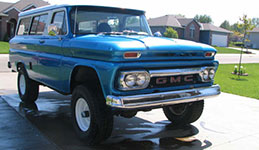 On the outside, these Suburbans resembled late 50s Chevrolet vehicles. They were available as two-door SUVs. A 5.4-liter V8 engine generated the line's biggest output, at 220 horses.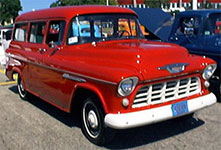 Suburban shoppers could choose from a variety of engines, including a selection of small block V8s. The most powerful engine was rated for 155 horses. The Suburban's new exterior offered sharp style.
These Suburbans were inspired by the Advance Design pickup series. The 1949 model served as the inspiration for the modern-day HHR compact wagon. This generation was the last for the Canopy Express model.
During the war years, the Suburban provided military transport, with room for up to eight occupants. Both GMC and Chevrolet produced these models. The third-generation Suburban derived its power from a 216-cubic-inch six-cylinder engine.
Up to eight passengers fit comfortably in the second-generation Suburban. These models sported all-metal wagon bodies.
The original Suburban was specifically designed for the National Guard and the Civilian Conservation Corps. It featured a station wagon body, built on a truck frame and consisting mainly of wood.