Used Chevrolet Silverado 1500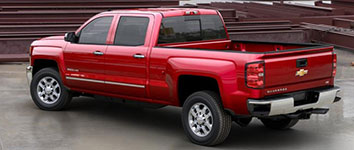 As you shop for a used Chevrolet Silverado 1500, keep in mind that it's best to buy a certified used model. These pickups must pass a thorough inspection before they can become certified, which means that they deliver optimal dependability. They also come with a variety of warranties, so you're covered if something should go wrong. Thanks to the 24-hour roadside assistance feature, you'll enjoy premium peace of mind.
These modern used Chevrolet Silverado 1500 models are the best yet. The new interior is more comfortable and refined than ever before. As with the previous generation, you can choose from regular, extended, and crew cabins for premium seating arrangements. There are also three available bed lengths: 5.75, 6.5, and 8 feet. Inside, the Silverado 1500 treats you to high-end comforts like leather upholstery and heated seats. You'll also enjoy all the latest tech features, thanks in part to the MyLink infotainment system. Use it to make hands-free calls or stream your favorite music from devices. The Silverado 1500 is also equipped with an in-car Wi-Fi hotspot, giving you the ability to surf the Web from anywhere.
You'll also love the modern Chevrolet Silverado 1500's world-class engine lineup. The base 4.3-liter V6 now makes 285 horsepower, giving you the output you need to tow and haul impressive loads. If you crave even greater power, look for the 5.3-liter V8 engine, which produces 355 horses. Move max loads with the 6.2-liter V8 engine and 420 horses.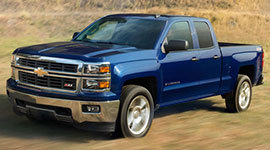 As you browse these used Chevrolet Silverado 1500s, you'll find three cabin styles – regular, extended, and crew. The latter two are excellent options if you require backseat space. The crew cabin is especially spacious. You'll also find a wide range of Silverado 1500 trim models, so you can choose whatever level of luxury suits your personal tastes. You'll find that second-generation Silverados are big on upscale features, including leather upholstery and high-tech entertainment gear. With the navigation system, it's easy to get wherever you need to go.
For this generation, the Silverado 1500 derives its power from a range of strong engines. Choose the 6.2-liter V8 engine for up to 408 horsepower – plenty of output to tackle major jobs.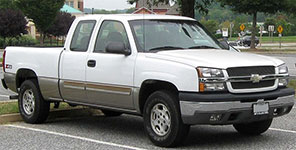 The first official Chevrolet Silverado 1500 models were specifically designed with towing and hauling in mind. The new V8 lineup delivered between 255 and 345 horsepower, giving shoppers plenty of options to get the job done. Halfway through this generation, Chevrolet introduced the QuadraSteer four-wheel steering option, which reduced the Silverado's turning circle to an excellent 37.4 feet.