Used Chevrolet Colorado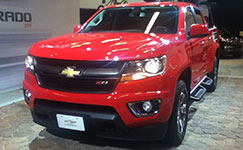 The Chevrolet Colorado was completely redesigned in 2015, achieving a new level of refinement that helped it become the best mid-size pickup on the road. It outdoes the competition with its fuel-efficient powertrains, upscale cabins, and modern conveniences. Unlike with other generations, the 2015 lineup doesn't feature a regular cab model, but shoppers can choose the extended cab with the 6'2" long bed or the spacious crew cab, which can be paired with either the long bed or the 5'2" short bed.
Under the hood, the standard 2.5-liter four-cylinder engine offers the perfect balance of power and fuel economy. The spacious crew cab is a great pick for those who crave power. With its 3.6-liter V6 engine under the hood, the Colorado can tow a class-leading maximum load of 7,000 pounds.
Inside, this pickup offers supportive seating and high-tech features – including the MyLink infotainment system – designed to keep you connected on the go. Items like keyless entry make your day a little easier. Voice command functionality lets you alter infotainment settings without looking away from the road. The standard OnStar telematics system delivers an in-car Wi-Fi connection, allowing passengers to connect up to seven devices.
The 2012 model year Colorado is distinguished by its strong V8 power and an impressive range of body style and trim configurations. These models towed their max load – 6,000 pounds – using a 300-horsepower V8 engine. The cabin isn't as luxurious as in the current model, but drivers love its supportive seating and uncomplicated design.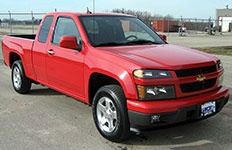 The original Colorado was best defined as a compact-to-midsize pickup. It was slightly larger than the S10 model it was created to replace, offering a spacious cabin and an up-to-date design, making it a smart choice when buying a used truck.
The ZQ8 handling package was available for two-wheel-drive models, giving the Colorado 17-inch wheels and tires. Those who favor the off-road experience could opt into the Z71 package, which gave four-wheel-drive models improved suspension and better overall performance.
During this first generation, two engines were available. The standard four-cylinder engine was rated for 175 horses, making it easy to power onto highways or pass slower vehicles. Shoppers could also select the 3.5-liter five-cylinder engine for an increased output of 220 horses – the best-in-class power of its day.