2019 Black Widow Trucks Reviewed
2019 Black Widow Trucks Reviewed

Inventory
They're custom-built to provide both an extra 6 inches of lift and customized comfort, but Black Widow trucks also loudly announce their presence with stunning style upgrades. Start with a regular Chevy truck – already handsome and rugged – and add the Black Widow lifted truck package, and envious drivers will see you coming a long way off. When it's built on the sturdy Chevrolet Silverado 1500 chassis, the Black Widow package performance gear takes this truck to new heights – literally. The aesthetic customization is the icing on this rugged cake, leaving your Silverado 1500 both more capable and stylish than before.
The newly redesigned 2019 Silverado 1500 is a full-size truck that punches in with eight available trim levels and a variety of body style configurations. The new trim levels are: the base Work Truck (WT), Custom, Custom Trail Boss, LT, RST, LT Trail Boss, LTZ, and High Country. As you make your way up that list, you'll longer lists of performance and comfort features. The options don't end there, either. Choose from three cab styles – the two-door regular cab, four-door extended Double cab, and spacious crew cab – to create the truck that best fits your crew size. (Though the regular cab is only available as the entry-level Work Truck trim.)
The Black Widow package replaces the Silverado 1500's steel or alloy wheels with bold, 20-inch custom black wheels. It also adds to the Silverado's rugged stance with 35-inch BF Goodrich AT KO2 tires and red brake caliper covers. Combined with the Silverado's modern features – like standard air conditioning, a 7-inch touchscreen infotainment interface, and Apple CarPlay and Android Auto smartphone integration – your Black Widow lifted truck will hit the road with everything you need to turn heads and get through a long drive in style.

Chevy Silverado Black Widow Performance
When you purchase your 2019 Chevrolet Silverado 1500, you can customize performance by choosing from four engines with a range of capabilities. The WT, Custom, and Custom Trail Boss come standard with a 4.3-liter V6 engine rated for 285 horsepower and 305 pound-feet of torque. Upgrade to the LT or RST for the turbocharged four-cylinder engine. Besides being the Silverado's thriftiest ride to work, the turbo four-cylinder makes 310 horsepower and 348 pound-feet of torque to underscore your off-road confidence. In the LT Trail Boss and up, you'll find a 5.3-liter V8 engine that pumps out 355 horsepower and 383 pound-feet of torque for serious adventure.
Finally, LTZ and High Country drivers have the option of adding the 6.2-liter V8 engine. This is the Silverado 1500's golden ticket, taking performance to the limits with 420 horsepower and 460 pound-feet of torque.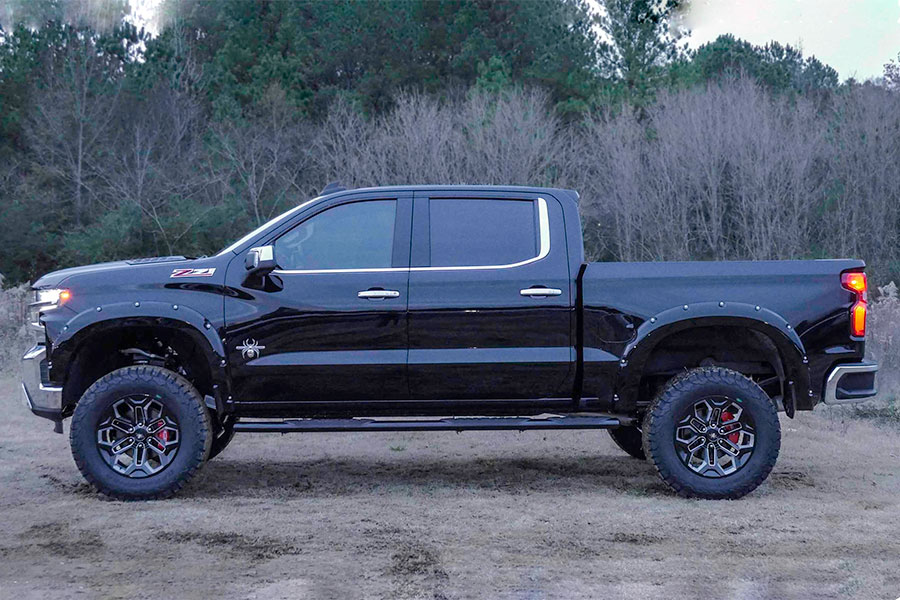 Keeping with the Black Widow theme, the package's interior customization supplies extra blackout style. Fans of the brand will recognize the Black Widow custom-stitched headrests and bold red speedometer gauges. The black interior trim and tinted windows add to the overall style. The red interior LED lighting puts the finishing touches on the cabin's dark, sultry look. The Silverado 1500's solid build and high-quality cabin materials underscore the Black Widow add-ons to make a functional, comfortable daily driver. If you've got a serious commute on your hands, you'll be pleased with seating comfort and support. Upscale options, like heated and ventilated seats with adjustable lumbar support, are your best friend in a traffic jam. Whatever Silverado cabin option is your cup of tea, you can count on generous head and legroom for all shapes and sizes.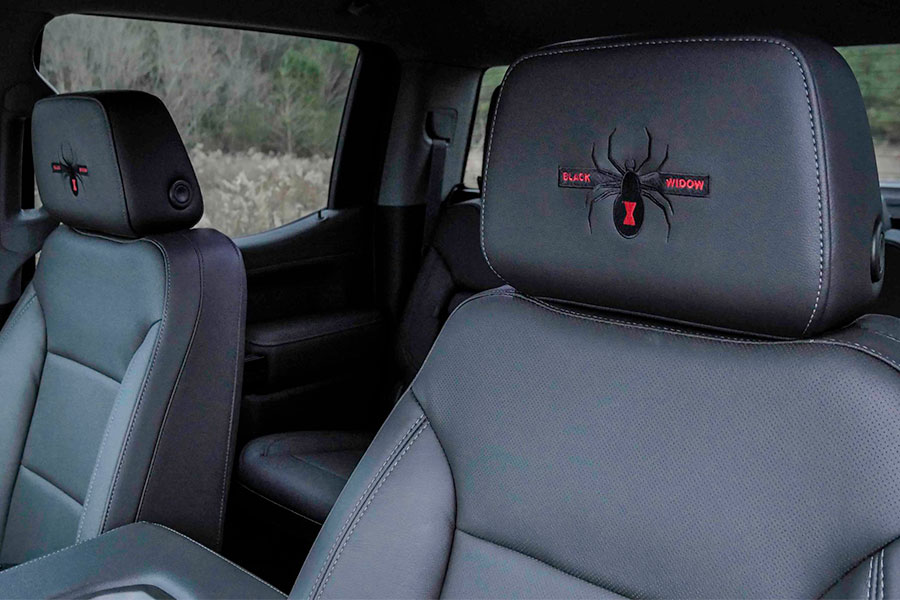 Chevrolet Black Widow Exterior
Black Widow lifted trucks come standard with wheel-to-wheel sidesteps, SCA pocket-style fender flares, and SCA Chevy hood vents, making them pretty hard to miss. The premium exterior Black Widow badging is another nice touch. One quick glance at those badges tells envious drivers everything they need to know. This year, the Black Widow package has four paint scheme options: full matte, fade, "hi-hat," and upper two-tone. That leaves a lot of style leeway for drivers, and it also means that no two Black Widow lifted trucks will be exactly the same.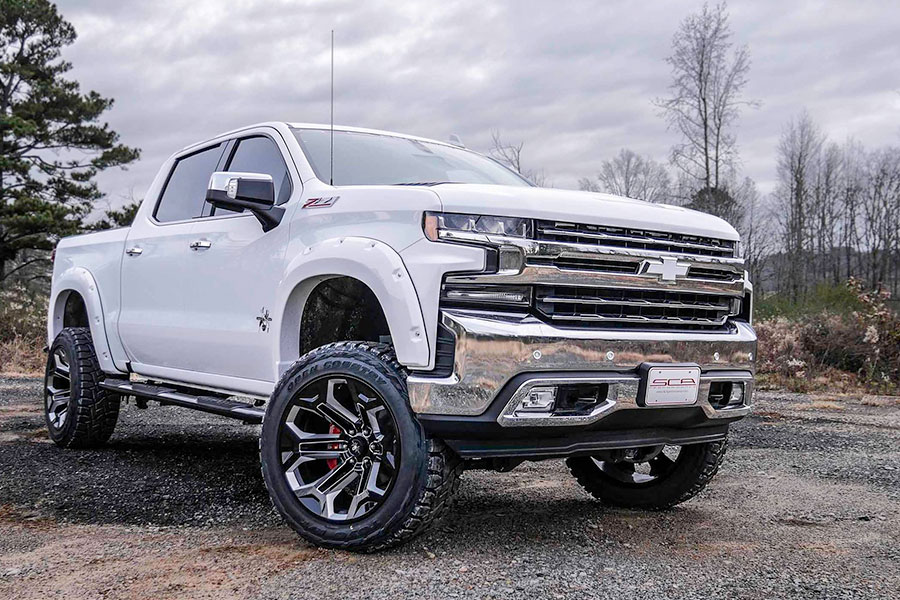 The Chevrolet Black Widow lifted truck towers over other drivers, and it's as capable as it is tall. Acceleration and off-road performance vary according to engine selection, but all powertrain options are quick to respond to your input. Thanks to the Black Widow's six-inch suspension lift, drivers have space to navigate rugged trails without pinging the undercarriage. And don't forget that the Black Widow package includes 20-inch wheels and 35-inch BF Goodrich AT KO2 tires are there to stabilize performance. Add four-wheel-drive to any of these trucks and you've got quite the off-road-ready beast on your hands.
Black Widow lifted trucks add a new level of style, comfort, and performance to the 2019 Chevrolet Silverado 1500. Visit us at Burlington Chevrolet to check out these beauties in person. Our staff is ready to answer any questions you might have about Black Widow lifted truck package equipment and options!