2023 Chevy Traverse vs Chevy Tahoe
The 2023 Chevy Traverse and Chevy Tahoe are two ultra-modern SUVs. The Traverse, a midsize three-row crossover SUV, is big on power and comfort. And the Tahoe, a full-size SUV, is just as comfortable and even bigger on power. The one that's right for you will speak to your priorities, whether those include towing performance or price. Let's take a closer look at each of these Chevys.
---
Key Takeaways
Compared to the midsize Traverse (starting at $34,520), the full-size Tahoe (starting at $54,200) has the higher MSRP.
The Tahoe is the stronger option, with rugged engine options and a higher tow rating.
Both Chevy SUVs offer impressive comfort, with cushy seating for up to eight passengers.
These SUVs provide a similar array of tech features and driver safety aids, though only the Tahoe offers Chevy's hands-free Super Cruise driving system.
---
MSRP
The 2023 Chevrolet Traverse is a midsize crossover SUV, with a car-like unibody chassis that contributes to a very agile performance. It starts at $34,520, making it a much more affordable option! Meanwhile, the 2023 Chevrolet Tahoe is a full-size, traditional SUV with a body-on-frame chassis that contributes to a strong, sporty performance. As the bigger, more powerful model, this SUV is more expensive, starting at $54,200.
---
Power & Performance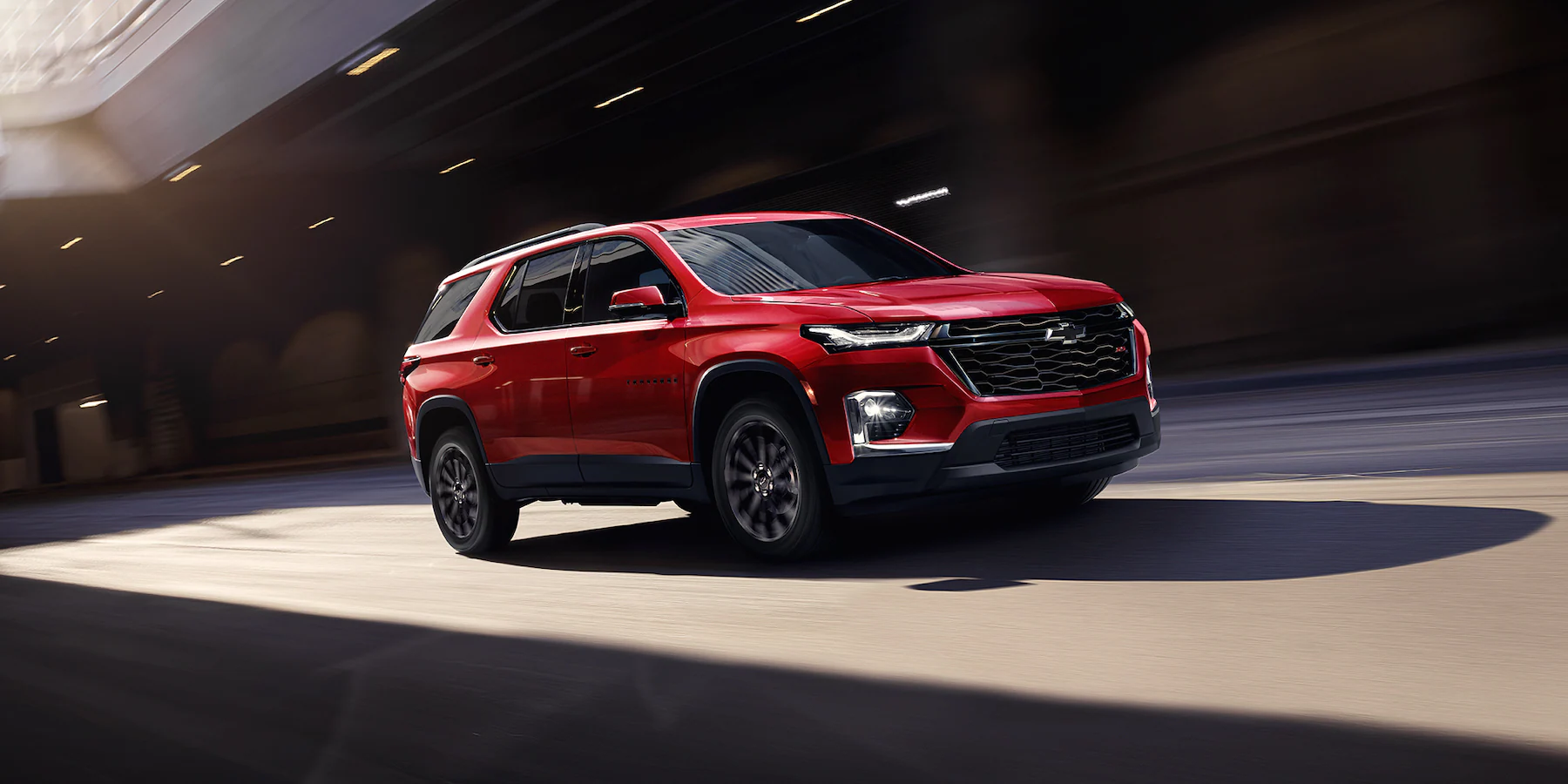 The 2023 Chevy Traverse is a powerful option, delivering 310 horsepower with its standard V6 engine. If you've got big toys at home, you'll be pleased to discover that this SUV can tow up to 5,000 pounds. All-wheel drive is available, so you can hit the trail with boosted traction. Depending on equipment, the Traverse earns EPA ratings of up to 21 mpg combined (18 city/27 highway).
The 2023 Traverse powertrain options include:
3.6L V6 (310 horsepower, 266 lb-ft of torque)
Nine-speed automatic transmission
Front-wheel drive
Optional all-wheel drive
Not only is the 2023 Chevy Tahoe the more powerful option, but this full-size SUV also offers multiple engine options. You can improve performance with the upgraded V8 engine, or you can improve fuel economy with the turbodiesel inline-six. The Tahoe also has a sturdier body-on-frame chassis (as opposed to the Traverse's unibody crossover build), which means it can tow more, with max ratings of up to 8,400 pounds. With the turbodiesel engine, the Tahoe actually earns better fuel economy than the smaller Traverse, with EPA ratings of up to 24 mpg combined (21 city/28 highway).
The 2023 Tahoe powertrain options include:
Standard 5.3L V8 (355 hp, 383 lb-ft)
Optional for the RST, Z71, Premier; standard for the High Country: 6.2L V8 (420 hp, 460 lb-ft)
Optional for all but the Z71: turbo 3.0L inline six-cylinder diesel engine (277 hp, 460 lb-ft)
Rear-wheel drive
Optional four-wheel drive
---
Interior Space & Comfort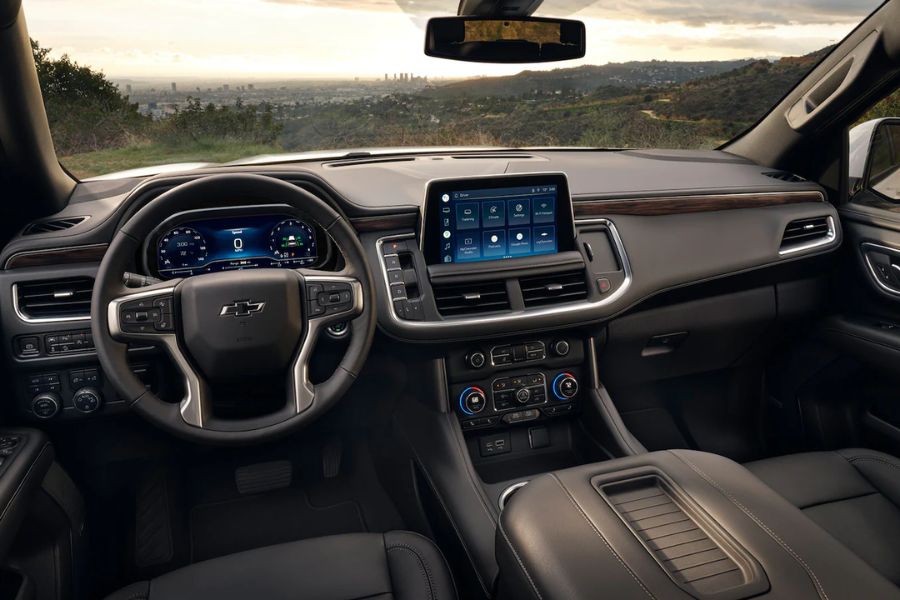 The Tahoe is the bigger SUV, delivering a few extra inches of passenger space in every row. Behind the rear seats, the Tahoe's cargo hold is also a little more spacious, with 25.5 cubic feet to the Traverse's 23 cubic feet.
Both Chevy SUVs offer a variety of trim levels, each of which provides more luxury than the last! These models come standard with modern creature comforts, including cushy seating and tri-zone automatic climate control. Available upgrades include leather upholstery, heated and ventilated front seats, and a panoramic sunroof.
---
Technology & Utility Features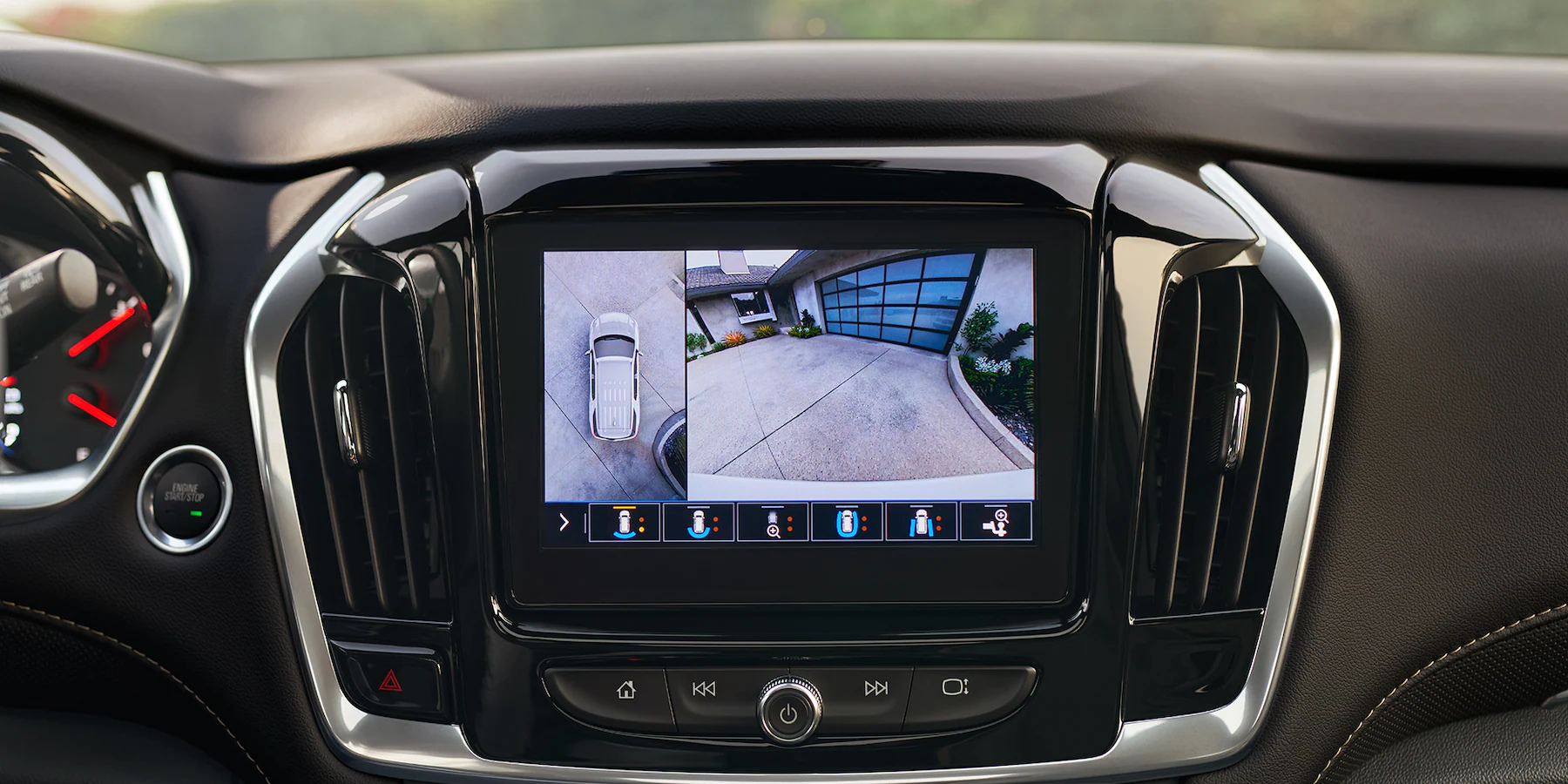 The Traverse and Tahoe have just about every tech feature in common. However, the more expensive Tahoe comes standard with a longer list of features. Both SUVs come standard with Chevy's infotainment system and wireless Apple CarPlay and Android Auto connectivity. In the Traverse, there's a standard 7-inch central touchscreen. In the Tahoe, there's a larger 8-inch central touchscreen.
The Traverse's standard safety aids include forward collision mitigation and lane keeping assistance. The Tahoe adds to this list with front and rear parking sensors. You can move up either SUV's trim levels for upgrades! The Traverse offers a bigger, 8-inch touchscreen, built-in navigation, blind-spot warning, and rear parking sensors. The Tahoe offers those features, plus a Bose audio system and the hands-free Super Cruise driving technology.
---
The Best Chevy SUV for You
In the end, choosing between the 2023 Chevy Tahoe and the Chevy Traverse is really about what you want! Although both SUVs seat up to eight people, the Tahoe is the roomier option. It's also the strongest option, with higher tow ratings and available four-wheel drive.The Traverse, on the other hand, is easier to maneuver around town, thanks to its agile handling and reduced overall size. It also treats you to plenty of power, if not as much as the Tahoe. Compared to the Tahoe, the Traverse also comes with a reduced price tag!