2023 Chevy Trailblazer vs 2023 Chevy Blazer
Are you wondering about the difference between the 2023 Chevy Trailblazer and 2023 Chevy Blazer? If you're not familiar with these Chevy SUVs, you may be surprised to find out just how different they are! The extra-small Trailblazer will appeal to anyone who wants a great price on a thrifty performance. The midsize Blazer will attract shoppers interested in sleek exterior style and a very sporty ride. And both SUVs are big on comfort and convenience. Let's take a closer look.
---
Key Takeaways
The smaller Trailblazer (starting at $22,100) has a lower MSRP than the midsize Blazer (starting at $35,100).
The Blazer is the more powerful option, though the Trailblazer offers a more efficient performance.
Inside, the Blazer offers greater passenger space and more available luxury features. However, the Trailblazer remains a roomy, comfortable option.
When it comes to tech features, these Chevrolet SUVs have a lot in common. However, the Blazer offers more upgrades, such as a bigger infotainment touchscreen.
---
Price
The 2023 Chevrolet Trailblazer, a subcompact crossover SUV, starts at $22,100. Not only is that a great price for a brand new SUV, but the entry-level Trailblazer comes standard with some desirable features, including a turbocharged powertrain and a tech-savvy cabin. Adding extra features or moving up the Trailblazer trim levels will increase the price accordingly! The midsize 2023 Chevrolet Blazer, on the other hand, starts at $35,100. Compared to the Trailblazer, the Blazer is bigger and more powerful. It also comes standard with some extra features. As you move up the trim levels, the Blazer can also be more luxurious than the Trailblazer.
---
Performance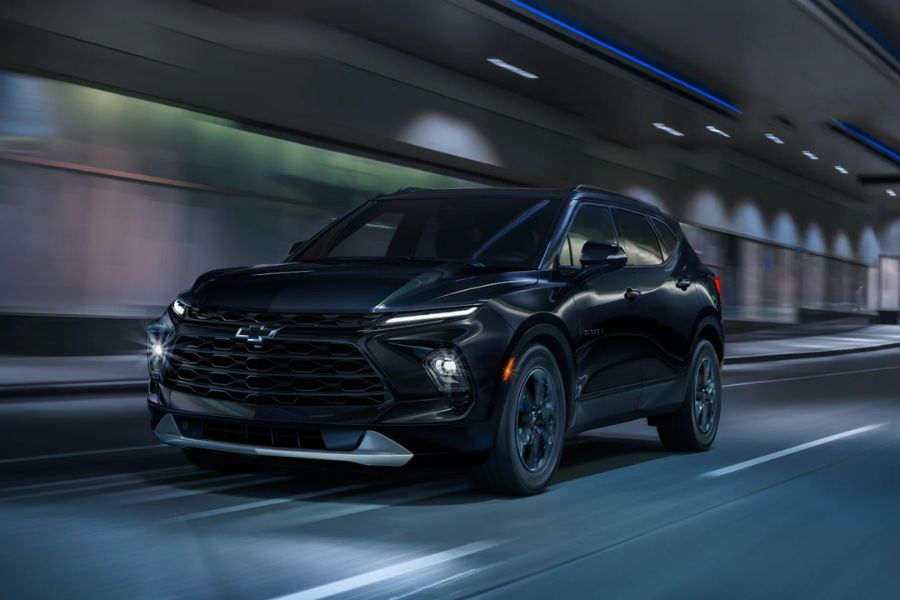 The Trailblazer is the more efficient of these Chevy SUVs. With its optional engine, EPA ratings reach 31 mpg combined (29 city/33 highway). With either of its available engine options, the Trailblazer delivers a smooth, sure performance. You should have no problem keeping up with traffic!
The 2023 Chevy Trailblazer offers two powertrain options:
Turbocharged 1.2L three-cylinder engine (137 horsepower, 162 lb-ft of torque) and continuously variable transmission, front-wheel drive
Optional turbo 1.3L three-cylinder engine (155 hp, 174 lb-ft) and nine-speed automatic, all-wheel drive
The midsize Blazer is the more powerful option. The Blazer is also designed to deliver a sporty performance, making it the right choice for fun-loving drivers. Like the Trailblazer, it offers optional all-wheel drive, which improves traction to help you get a better grip on wet pavement or muddy trails.
The 2023 Chevy Blazer also offers two engine options.
Turbo 2.0L four-cylinder engine (228 hp, 258 lb-ft)
3.6L V6 (308 hp, 270 lb-ft)
Nine-speed automatic transmission
Front-wheel drive
Optional all-wheel drive
---
Interior Space & Comfort Features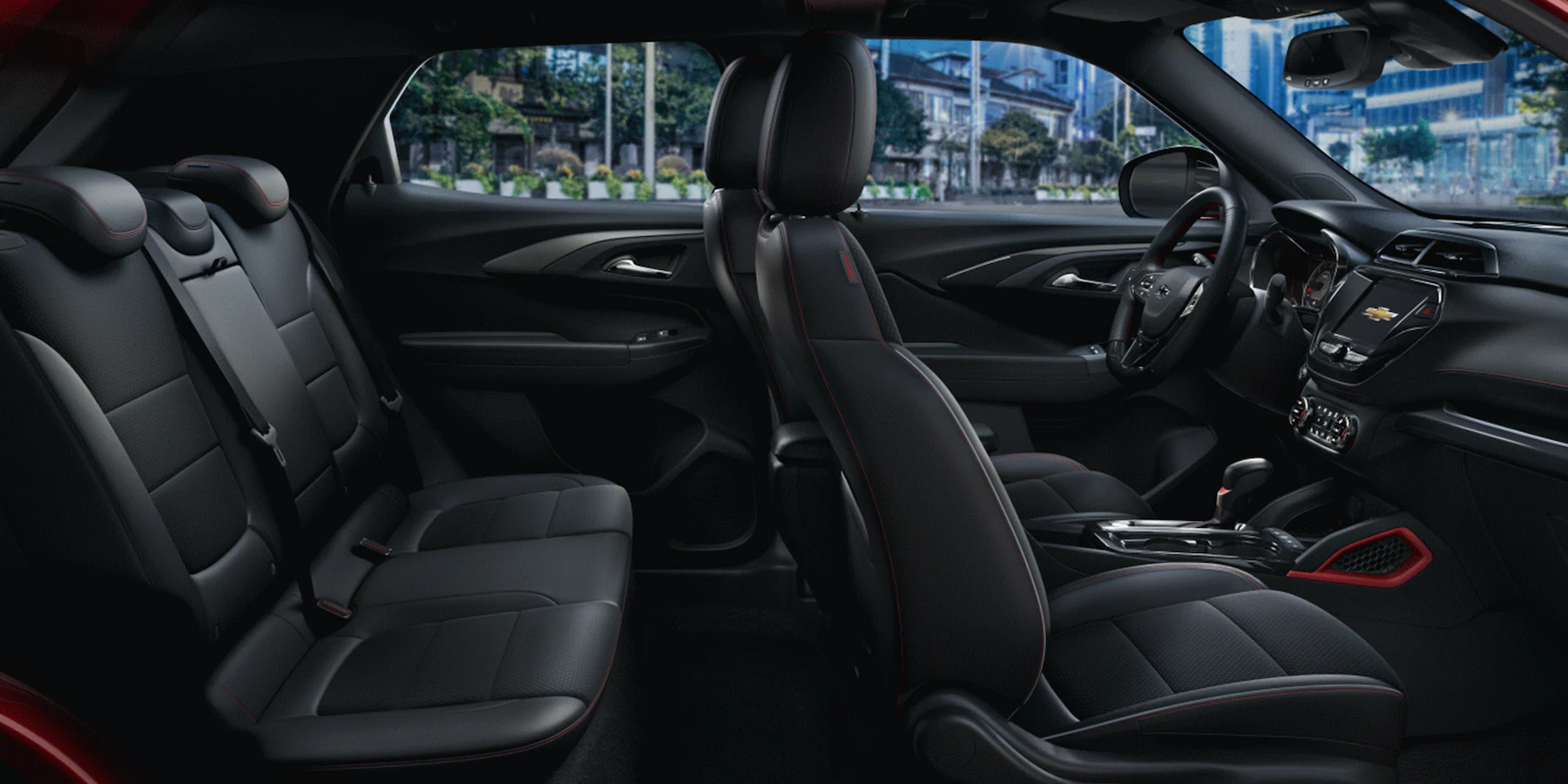 As the midsize crossover of the pair, the Blazer is a little bit roomier. It's wider than the Trailblazer, for starters, giving you extra shoulder and hip room in both rows of seating. Behind the rear seats, the Blazer also offers you more space for your cargo, with 30.5 cubic feet behind the rear seats to the Trailblazer's 25.3 cubes. Both Chevrolet SUVs offer four available trim models with varying levels of interior luxury and style. Their entry-level models deliver basics like cloth seating and power accessories. Moving up each SUV's list of trims will create a more luxurious ride, with available features that include heated front seats and a leather-wrapped steering wheel. Unlike the Trailblazer, the Blazer offers genuine leather upholstery.
---
Tech & Utility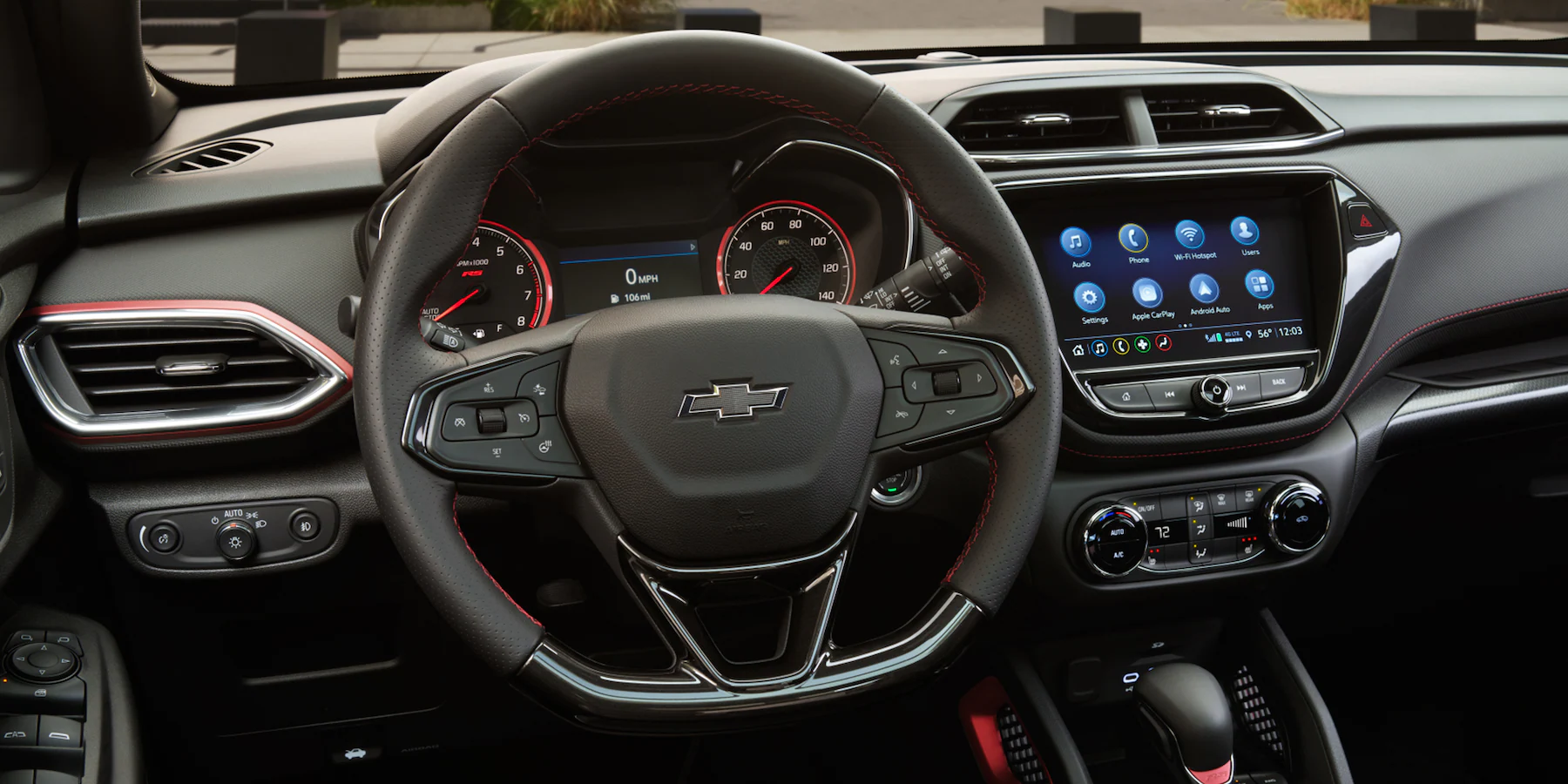 Although these Chevrolet crossovers provide many of the same tech features, the Blazer is a little more cutting-edge. For example, Chevy's midsize crossover comes standard with a bigger 10-inch infotainment touchscreen (the Trailblazer's is 7 inches)and four USB ports (the Trailblazer comes standard with two). Both crossovers come standard with forward collision mitigation and lane keeping assistance, two driver safety aids that may help you avoid a careless accident. And both Chevys also offer optional safety aids, such as blind-spot monitoring and rear parking sensors.
---
Choose Your Chevy SUV
Which Chevy should you choose? Only you can really answer this question! If you want a more affordable SUV and a peppy but efficient performance, you should drive home in the 2023 Trailblazer. On the other hand, if you want more of a high-performance experience, sharper exterior style, and greater interior luxury, you should most definitely check out the 2023 Blazer!