2023 Chevy Tahoe vs Toyota Sequoia
When you're shopping for a family-friendly full-size SUV, both the 2023 Chevy Tahoe and Toyota Sequoia seem like great options. These rugged, three-row SUVs are big on adventure and interior comfort! But, since you can only take one home, our comparison guide is here to give you a tour of each SUV.
---
Key Takeaways
To save money on a new SUV, check out the Tahoe, which features the lowest MSRP.
We think the Tahoe is also the handsomer option, and we think most would agree!
The Sequoia offers more horsepower and a slightly higher max tow rating!
When it comes to luxury features, you'll find them more widely available throughout the Tahoe trim lineup.
---
MSRP: 2023 Chevy Tahoe
The entry-level Tahoe (starting at $54,200) costs less than its Sequoia counterpart (starting at $58,365).With its lower starting price, the Tahoe can appeal to shoppers who want to save thousands of dollars.
---
Rugged Style: 2023 Chevy Tahoe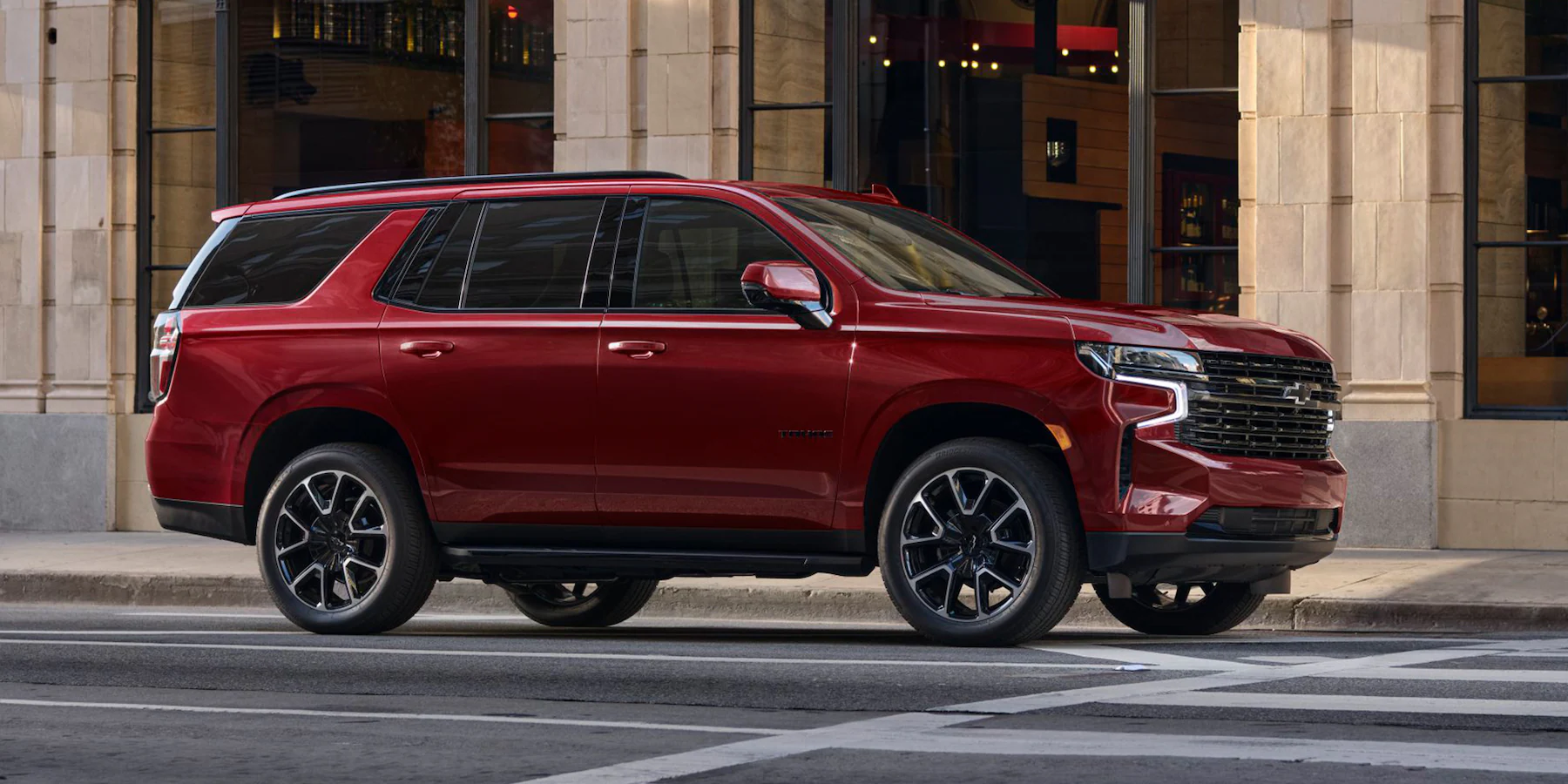 Beauty might be in the eye of the beholder, but we think most SUV drivers would agree with us that the Chevrolet Tahoe has the more attractive exterior. With its strong, squared-off front end and tall stance, no one could miss this SUV on the horizon. And the Tahoe is also available with a variety of exterior upgrades, from bigger, shinier wheels to bronze trim. Like the Tahoe, the Toyota Sequoia is a big SUV with a rugged stance. However, its signature lighting and grille aren't quite as stylish as what you'll see on the Tahoe. But the Sequoia is just as configurable, with its own wheel and exterior trim models.
---
Maximum Horsepower: 2023 Toyota Sequoia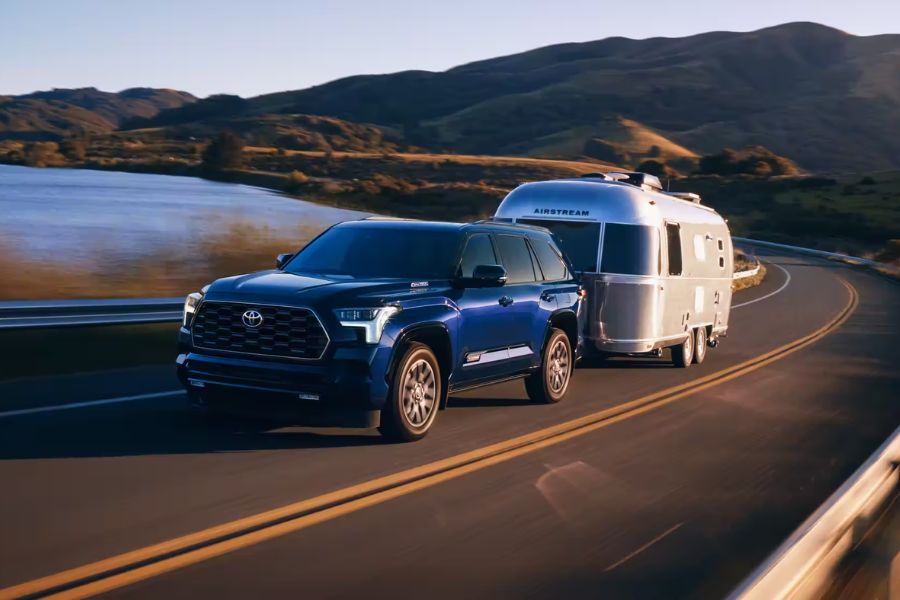 With its 437-horsepower turbocharged engine, the Sequoia delivers maximum power. It's also the better SUV for towing, with a max rating of up to 9,520 pounds. If you're looking for a sturdy off-roader or an SUV that's capable of towing a very big boat or camper, the Sequoia just might be the best option for you!
The 2023 Sequoia powertrain specs include:
Turbocharged 3.4L hybrid V6 (437 horsepower, 538 lb-ft of torque)
10-speed automatic transmission
Rear-wheel drive
Optional four-wheel drive
That said, the 2023 Tahoe is still a very powerful SUV. It's also available with three engine options, one of which is a turbodiesel engine that earns up to 24 mpg combined (21 city/28 highway). Depending on configuration and equipment, the Tahoe can also tow a pretty big boat, with a maximum tow rating of 8,400 pounds.
The 2023 Tahoe powertrain specs include:
5.3L V8 (355 hp, 383 lb-ft)
Optional 6.2L V8 (420 hp, 460 lb-ft)
Optional turbo 3.0L inline six-cylinder diesel engine (277 hp, 460 lb-ft)
10-speed automatic transmission
Rear-wheel drive
Optional four-wheel drive
---
Interior Luxury: 2023 Chevy Tahoe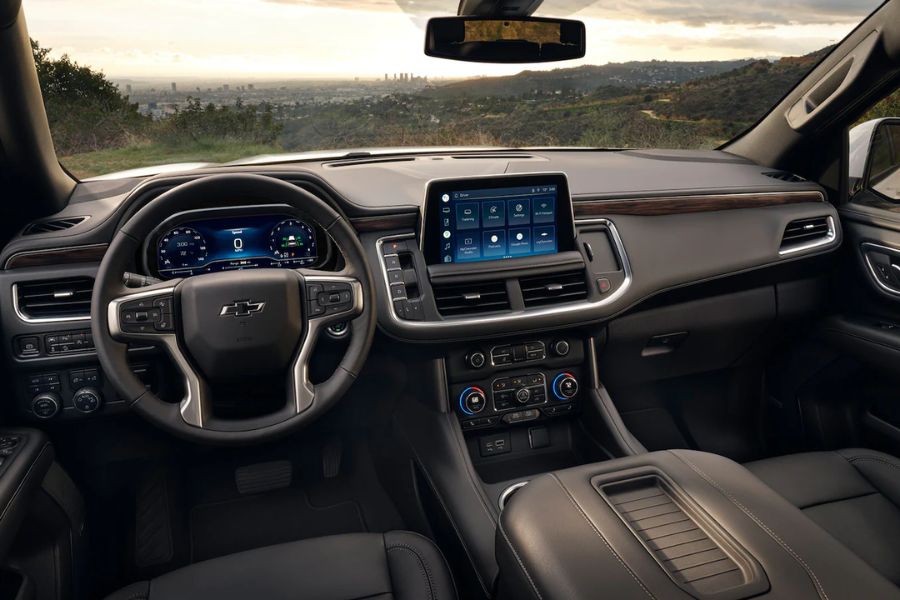 Both SUVs offer upscale options, but the Chevy Tahoe gives you more luxury on lower trim levels. For instance, all but the base LS model come with leather upholstery, heated front seats, and a Bose sound system. If you're looking for maximum style, the top-trim High Country delivers big, with 22-inch wheels and exclusive bronze exterior accents. Although the lower Toyota Sequoia trim models are not as fancy as their Tahoe counterparts, the higher trim levels are in fact very classy. For instance, the Sequoia Platinum treats you to leather upholstery and heated and ventilated front- and second-row seats. And the top-of-the-line Capstone provides upgraded leather seating and genuine wood cabin trim.
---
Your New SUV
The 2023 Toyota Sequoia isn't without its perks, but the 2023 Chevy Tahoe is the overall winner here. Not only does the Tahoe deliver a stylish exterior and an upscale cabin, but it also gives you plenty of power at the lowest price!