2022 Chevy Traverse vs GMC Acadia
The 2022 Chevy Traverse and GMC Acadia are both three-row, midsize crossovers. And they both have a parent company in common in General Motors. But is one the same as the other? Our comparison guide is here to help you drive home in the crossover SUV that you'll love the most.
Lowest Price Tag: 2022 Chevy Traverse
Although the Traverse and Acadia have very similar price tags, the Traverse can help you save a little bit of cash. Chevy's three-row midsize crossover starts at $33,700. Meanwhile, the Acadia raises the starting price to $34,800.
Exterior Styling: 2022 Chevy Traverse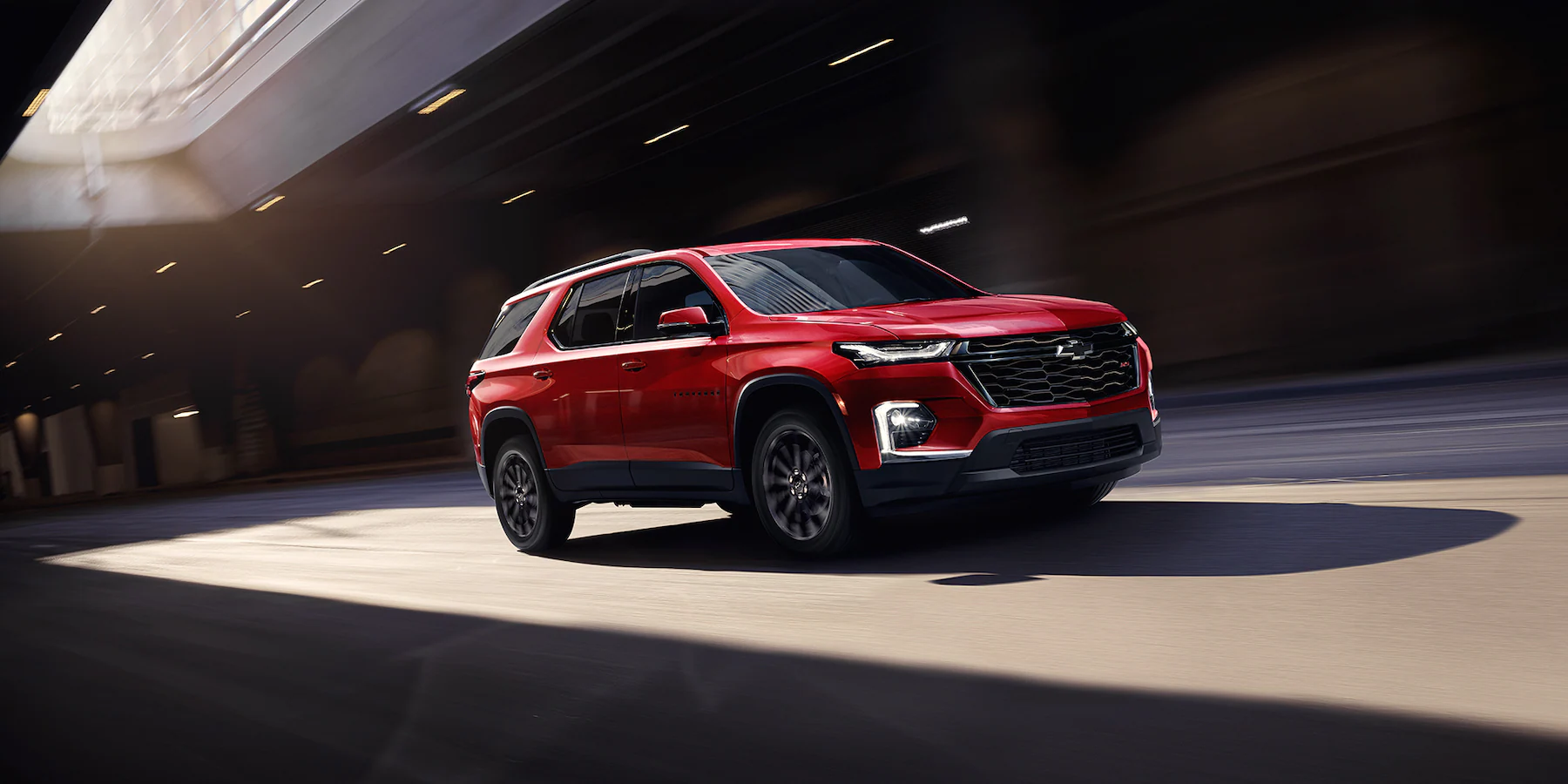 These midsize crossovers might have a lot of features in common, but it's easy to tell them apart from the outside. We think the Traverse has the upper hand here, with its smooth lines and elegant signature lightning.With its wide grille, available roof rails, and available chrome trim, the Traverse looks both refined and rugged at the same time.
The GMC Acadia looks more rugged than anything else. This crossover SUV's front end will almost remind you of a truck, with its broad grille, rectangular lights, and square stance.
Standard Power: 2022 Chevy Traverse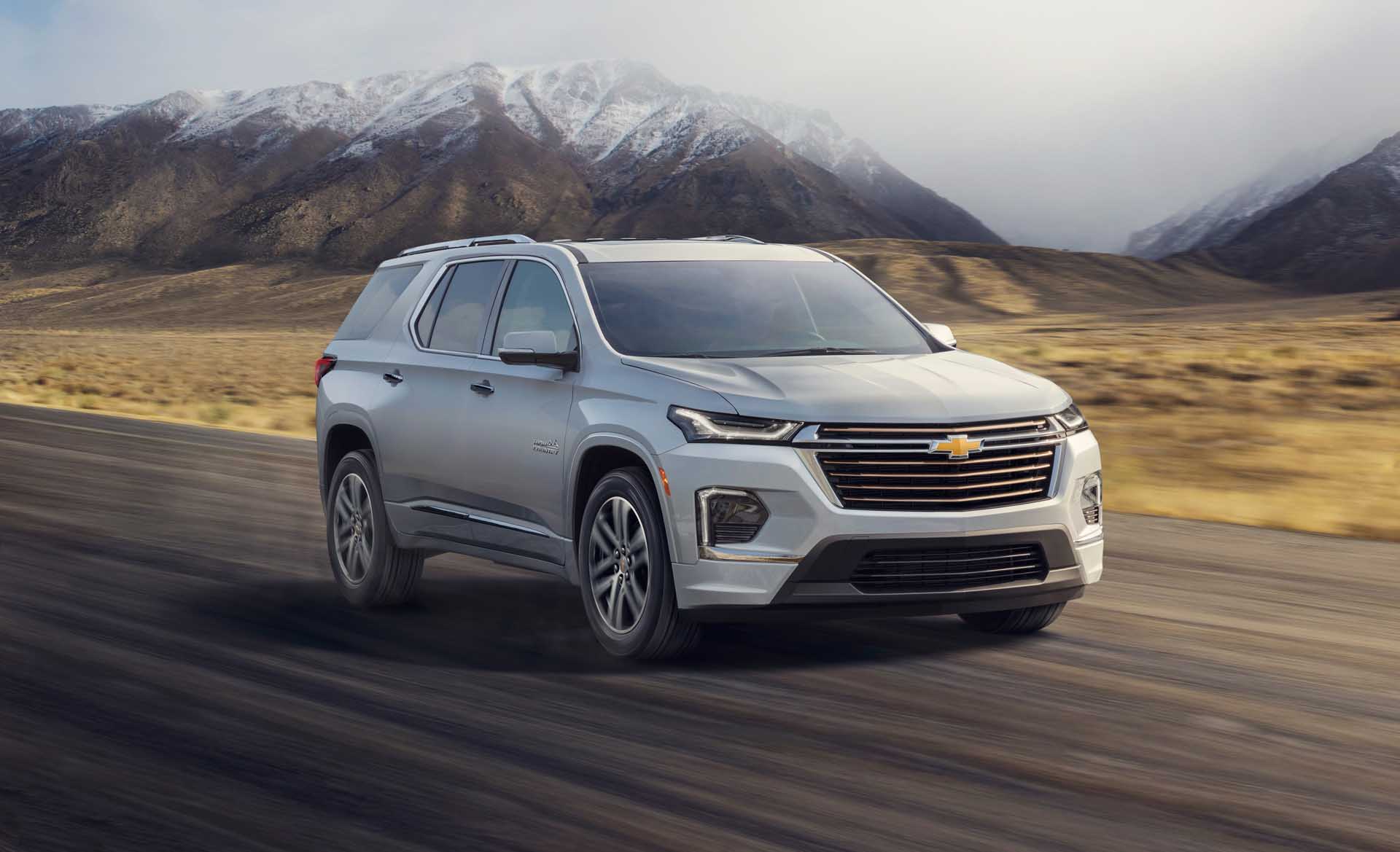 The Traverse actually comes standard with the more powerful engine, a 3.6-liter V6 (310 horsepower, 266 lb-ft of torque). You'll find it in every Traverse trim model at no extra charge.
With the Acadia, you get a standard 2.0-liter four-cylinder engine (228 hp, 258 lb-ft). The Acadia also offers a 3.6-liter V6 (310 hp, 266 lb-ft), but only on higher trim levels, such as the sporty AT4 and luxurious Denali. Unfortunately, you'll have to pay a lot more to access its powerful performance.
Modern Features: It's a Tie!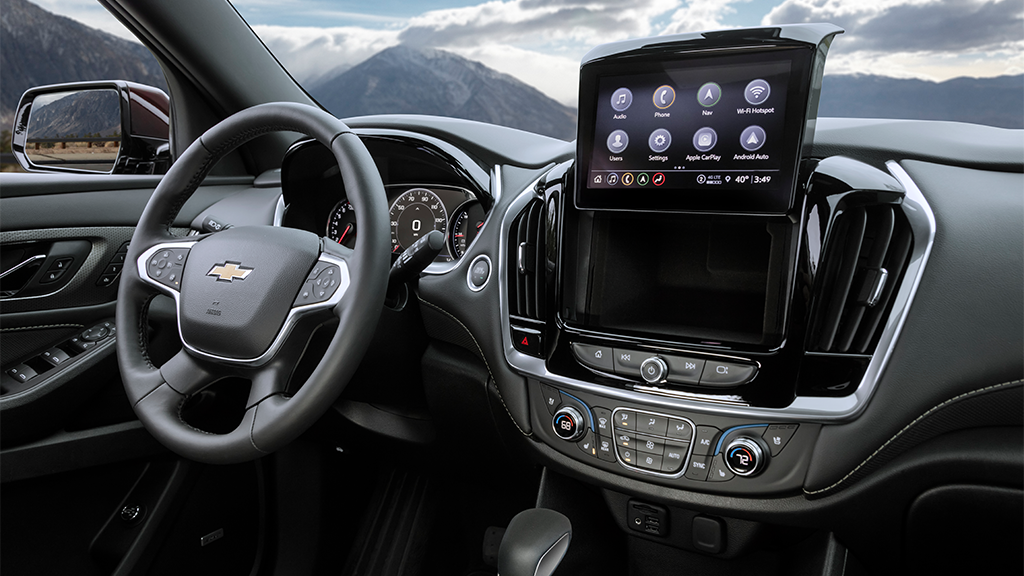 You'll see very little differences between these models' lists of standard features (the Traverse comes with a 7-inch touchscreen infotainment interface and the Acadia's is 8 inches, for example). Both models treat you to tri-zone automatic climate control and wireless Apple CarPlay and Android Auto. Standard safety aids include blind-spot monitoring and lane-keeping assist.
And both the Traverse and Acadia treat you to upscale options. Climb the trim levels for upgrades like leather seating, remote start, heated seats, and more.
Your New Three-Row Crossover
Most three-row crossover SUVs have a lot in common, but the 2022 Chevy Traverse and GMC Acadia share more features than most. But the Traverse ultimately gives shoppers more of what they want, including a standard V6 engine. Choose the Traverse for the best bang-to-buck ratio.