2022 Chevy Silverado HD vs Ford Super Duty
Should you choose a 2022 Chevy Silverado HD or Ford Super Duty truck? Both of these heavy-duty trucks can move major payloads and tow oversized trailers. But which is best suited to your needs? Our comparison guide has the answers you seek.
Friendliest Price: 2022 Chevy Silverado HD
The Silverado HD comes at a slightly lower price than the Ford Super Duty, with a starting price tag of $35,300. By comparison, the entry-level F-250 Super Duty model starts at $37,495. And, in addition to its lower price, the Silverado HD also gives you a longer list of standard features.
Comfy, High-Tech Trucking: 2022 Chevy Silverado HD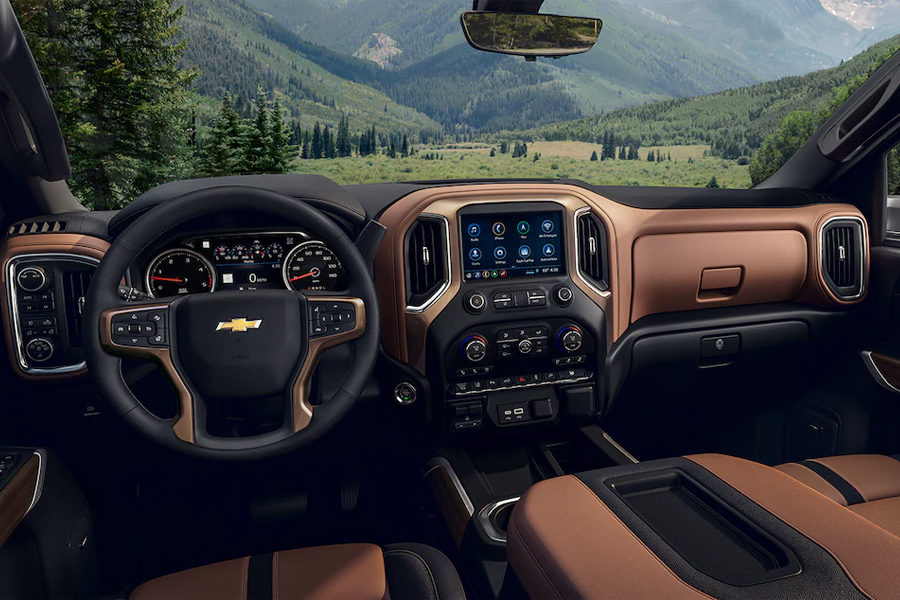 With its classic, rugged styling and wealth of high-tech features, the Silverado HD is our first choice for everyday driving. Choose Chevy's heavy-duty truck for a very long list of standard features, including a central infotainment touchscreen, complete smartphone integration (via Apple CarPlay and Android Auto and two USB ports). And the Silverado HD also offers high-end options (think leather-trimmed upholstery, heated seats, and dual-zone automatic climate control).
The Ford Super Duty trucks are a close runner-up, however. Ford's heavy-duty pickups also offer lots of high-end options, from leather upholstery to camera-heavy towing assistance features. However, the Super Duty standard lineup isn't quite as feature rich, sticking to basics. For example, USB ports are standard but you have to upgrade to a higher trim model to enjoy Apple CarPlay and Android Auto.
Standard Power: 2022 Chevy Silverado HD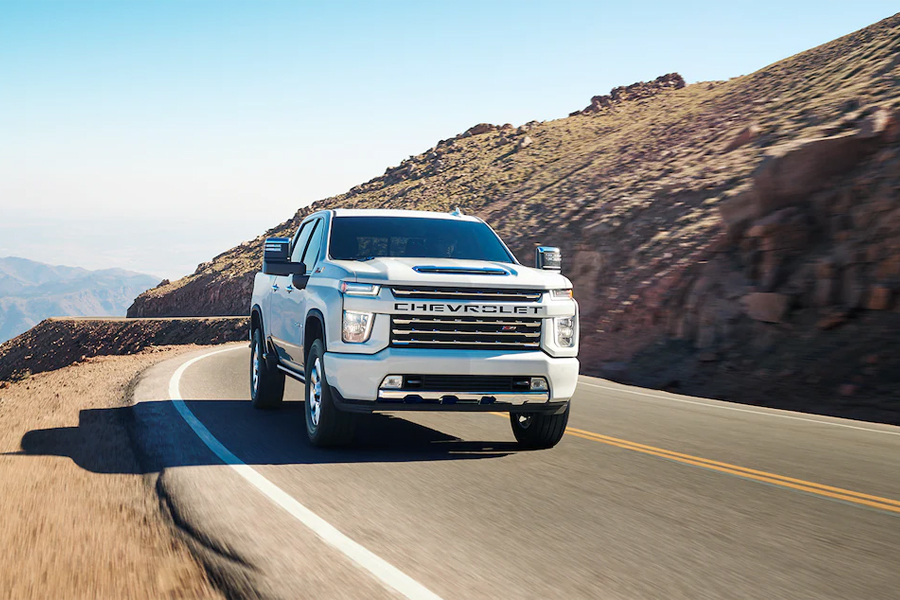 The Silverado HD comes with the more impressive standard powertrain, a 6.6-liter gas-powered V8 (401 horsepower, 464 lb-ft of torque) and a six-speed automatic transmission. To haul the heaviest trailer, however, you're going to want the 6.6-liter Duramax turbodiesel V8 engine (445 hp, 910 lb-ft), which is paired with a 10-speed automatic transmission.
Although the Ford Super Duty's standard engine isn't quite as impressive by comparison, it's still pretty powerful in its own right. The base 6.2-liter gas-powered V8 (385 hp, 430 lb-ft) is also paired with a six-speed automatic transmission.
Ford offers two engine upgrades for its heavy-duty trucks. A 7.3-liter gas-powered V8 (430 hp, 475 lb-ft) is available to increase hauling capabilities. And a 6.7-liter turbodiesel V8 (475 hp, 1,050 lb-ft) can take tow ratings to new heights.
Max Towing and Hauling: 2022 Ford Super Duty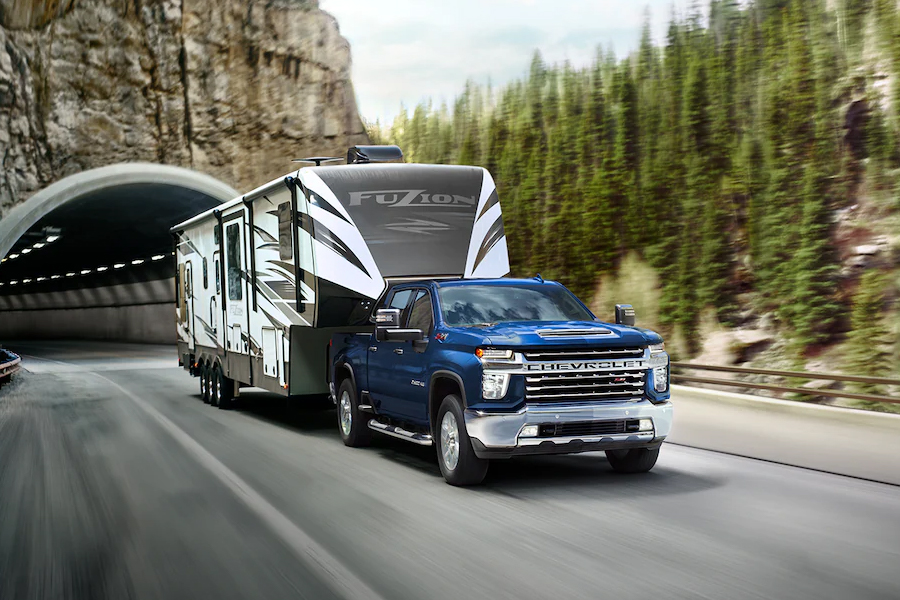 Properly equipped, the 2022 Ford F-450 can tow max loads of 37,000 pounds. The F-350 is the model that can haul the biggest payloads, with max ratings of 7,850 pounds, depending on configuration and equipment.
Of the heavy-duty Chevy trucks, it's the Silverado 3500 HD that can tow and haul the most weight. Depending on how you configure yours, this heavy-duty truck can haul max payloads of 7,442 pounds. Max trailering is also impressive; these trucks can tow up to 36,000 pounds. As you can see, the most capable Silverado HD only trails slightly behind its Ford counterparts.
Choose Your Heavy-Duty Truck
Both of these all-American trucks can move major weight, but the 2022 Chevy Silverado HD gives you the most advantages. Choose one of these Chevys for the friendliest price on a comfortable, tech-savvy, heavy-duty truck.