Used 2017 Chevrolet Corvette Grand Sport

The Used 2017 Chevrolet Corvette Grand Sport is a racetrack-ready luxury sports car that's available as a coupe or convertible. Under the hood, its V8 engine produces sublime power. The Grand Sport's sleek, aerodynamic exterior takes performance to the max. A wealth of speed-friendly hardware gives you optimal control over your ride. Inside, the Grand Sport's cockpit is uniquely luxurious. Choose from a range of interior and exterior colors for the model that speaks to your individual style.
Used 2017 Chevrolet Corvette Grand Sport
For the last word in style and performance, look no further than the Used 2017 Corvette Grand Sport. This rare bird has only been offered during three other model years – 1963, 1996, and 2010. The Used 2017 model is the best of the bunch.
Under the hood, this luxury coupe packs a major punch. Its 6.2-liter LT1 V8 engine produces 460 horsepower and 465 pound-feet of torque. With that kind of muscle, the Corvette Grand Sport leaves competitors in the literal dust, going from 0 to 60 mph in just 3.6 seconds. The seven-speed manual transmission gives you racetrack-ready control over performance. Its Active Rev Matching technology guarantees smooth shifts. For a more carefree experience, check out the eight-speed automatic transmission. It offers paddle shifters so you can downshift at will and pass other vehicles with ease.
In addition to its cutting-edge powertrain, the Used 2017 Corvette Grand Sport lends a bevy of cutting-edge performance enhancements. Carbon ceramic Brembo brakes bring you to a quick stop – even from high speeds. The Corvette's Magnetic Ride technology stiffens the suspension to balance high-octane performance with a silky smooth ride. The electronic limited-slip differential does much to increase overall handling, steering, and traction, thereby taking performance to the next level. The lightweight, 19-inch front and 20-inch rear wheels grip the road so you can take on corners and curves with true dexterity.
The Used 2017 Corvette Grand Sport is known for its standout style. You can personalize its interior details, adding features like brushed aluminum trim and handsome hash mark details. The Heritage Package also lets you choose from hash mark fender graphics in six different colors. The Grand Sport's full-length exterior stripe comes in five different colors.
For a little extra wind in your hair, test-drive a convertible Corvette Grand Sport. When you've got the top up, the body-colored tonneau cover maximizes performance. The top is easy to lower by pushing a button in the cabin. Alternatively, it opens remotely, via the key fob. You can even lower the convertible top as you cruise at speeds of 30 mph or less.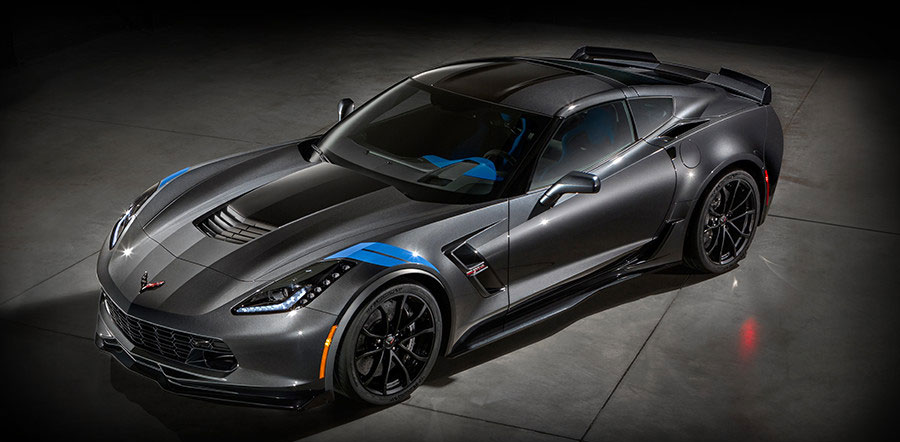 Corvette Grand Sport Collector Edition
This limited-edition model offers elite style. It features an exclusive Watkins Glen Grey body color with Tension Blue fender hash marks and a Satin Black full-length stripe. Its cup-style Black wheels further set the Collector Edition apart from other models. Inside, this model is even more stylish. Its unique leather-and-suede interior details are Tension Blue with blue accent stitching.

Race-Ready Performance
With 460 horses and 465 lb.-ft. of torque, you'll blow the competition away.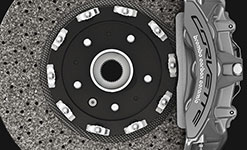 Major Stopping Power
Carbon-ceramic brakes bring the Corvette Grand Sport to a quick halt.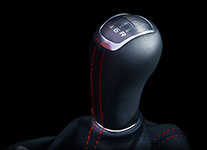 Cutting-Edge Transmission Options
Choose between a seven-speed manual and eight-speed automatic for world-class performance.

Contoured, Aerodynamic Exterior
Every exterior line lends itself to the perfect ride.
Conclusion
The Used 2017 Chevrolet Corvette Grand Sport takes the iconic luxury sports car to an entirely new level. Hit the track in style with its exclusive V8 engine. High-end performance gear will put you ahead of the competition. Inside, the Corvette Grand Sport is upscale and stylish. High-end comfort and convenience features help you make the most out of your ride. Choose from a range of unique styling details, including exterior stripes and hash marks, so that your Grand Sport speaks to your personal style. Feel the power of the Grand Sport on a test drive today!