2017 Chevrolet Malibu vs Ford Fusion

With so much focus currently on crossovers it's easy to overlook just how fantastic some other types of vehicles in the current auto market really are, and the midsize sedan segment is one particularly rich vein of automotive excellence right now. Two of the undoubted champions of that particular realm are the 2017 Chevrolet Malibu and the 2017 Ford Fusion, so let's take a closer look to see which one is most deserving of more attention.
2017 Chevrolet Malibu vs Ford Fusion
Interior and Exterior Styling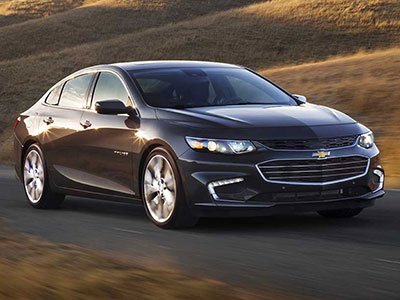 If you want to look for an area to use for leveling criticism at the Ford Fusion, the exterior styling isn't going to be a target-rich environment for you. It has been around for a little while now though, and its success means there's an awful lot of Fusions out there on the road. The interior is clean, modern and functional, but it's perhaps not as thrilling as the interiors of its siblings the Focus and Fiesta, especially when it comes to the cockpit.
The Malibu has a familiar name but its impressive development may have gone under many buyers' radar in recent times. The Chevy has made extensive use of high strength steel to deliver a car that's now lighter, brighter and longer than it used to be. It's sporty in a way that stops just short of full-blown sports coupe levels of restricted rear headroom, but it's sleek and aerodynamic enough to still deliver more than a modicum of the wow-factor. As a midsize with one of the most spacious interiors in its class and as it's a little less common than the Fusion, the Malibu just edges it here.
Comfort, Quality and Practicality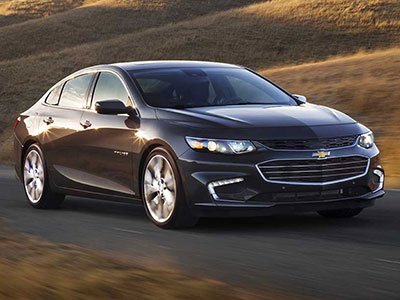 The Fusion can be comfortable, practical and of high quality, but it's going to cost you a fair amount to get there if we're honest. There's nothing wrong with getting what you pay for, but there is if you can have it for less somewhere else. The interior trim is fairly basic on lower trim levels, so buyers will be tempted to spend more for better. There are no problems with practicality though, as levels of passenger and cargo capacity are decidedly generous here.
Despite a relatively short wheelbase, the Malibu makes good use of some clever interior packaging to bring about a feeling of genuine spaciousness, and rear-seat passengers can even enjoy as much as 38.1 inches of leg room. Features like active noise cancellation and sound deadening subdue any harsh vibrations from the road and drivetrain, and even the entry level L model has a good quality feel about it. The Ford would probably win this section if we were only considering the top trim levels, but the Malibu is the better all-rounder.
Engines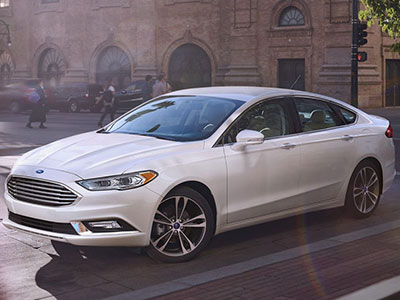 The Malibu has two engines that do a fine job of balancing power with fuel economy without having to go all the way to the hybrid. Both are four-cylinder units though, so anyone wanting a more powerful V-6 will not find what they're looking for here in the Chevy. The two available engines are both turbocharged and the 2.0-liter develops 250 horsepower, which is enough for most applications, but it could leave you wishing for a little more.
Engines are a real strong suit for the Fusion with no less than four to select from, and that's before you get to the hybrid and plug-in hybrids. The base engine is a normally aspirated 2.5-liter inline four, but the other three are all EcoBoost turbos. The crowning glory is therefore the 2.7-liter V-6 in the Fusion Sport with its 325 horsepower and 380 lb.-ft. of torque, which the Malibu just hasn't got an answer to.
Fuel Economy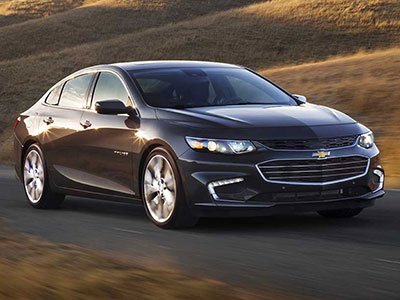 With four engines, including three efficient EcoBoost units, the 2017 Ford Fusion offers some good fuel economy ratings. The best numbers unsurprisingly come from the 1.5-liter EcoBoost, which is rated at 23 mpg in the city, 34 mpg on the highway and 27 mpg combined.
The 1.5 in the 2017 Chevrolet Malibu is also its fuel economy champion, but it could surprise some that it's quite a bit better than its Ford equivalent. The Malibu therefore gets EPA-estimated figures as good as 27 mpg in the city, 36 mpg on the highway and 30 mpg combined, which really is impressive and a good deal better than the Fusion.
Learn More about the Chevrolet Malibu

There are no lemons or turkeys here in either lineup, and it would be churlish to suggest anyone would be desperately let down by either car in any meaningful way. But if we had to choose one it would have to be the Malibu. It's a bit fresher looking than the Ford, it's more fuel-efficient and it's more affordable at both ends of the specification spectrum.