Used 2017 Chevrolet Camaro ZL1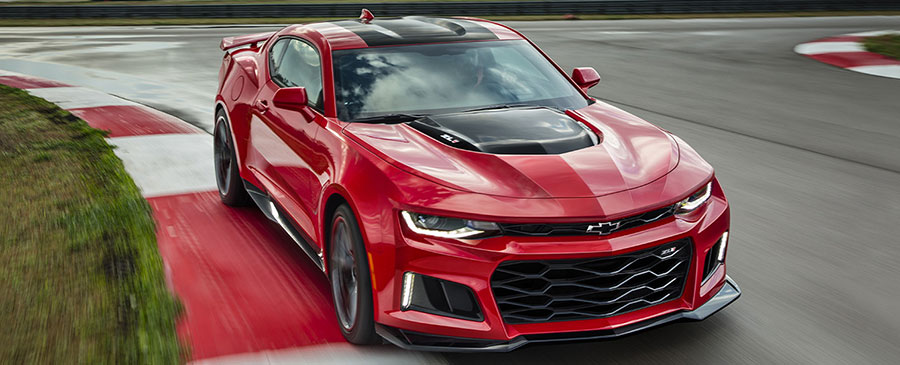 The Used 2017 Chevrolet Camaro ZL1 is a racetrack-ready muscle car, with enough world-class performance gear to take on the biggest names in speed. Everything about the Camaro ZL1 is tailored to enhance acceleration and on-road prowess. It's also the fastest Camaro to ever grace the highways, with aa supercharged V8 engine rated for 640 horses. Inside, Recaro front sport seats keep you snug and ready for high-speed action. Advanced technology enhances infotainment and safety features.
Used 2017 Chevrolet Camaro ZL1
Under its streamlined hood, the Used 2017 Camaro ZL1 boasts a supercharged, LT4 6.2-liter V8 engine. It generates 640 horsepower and 640 pound-feet of torque, making the ZL1 the most potent Camaro ever produced. This engine is paired with a six-speed manual transmission to give you total control over performance. Active rev matching technology contributes to the ZL1's silky smooth downshifts. You can also choose the 10-speed automatic transmission, which helps you maximize RPM levels and optimize engine response time. The 10-speed automatic also provides paddle-shift controls, giving you the power to switch gears at will.
In action, the Used 2017 Chevrolet Camaro ZL1 is nothing short of astounding. The supercharged powertrain is quick to respond to driver inputs and leaves racetrack competitors in the dust. The ZL1 also introduces a long list of performance-based hardware to enhance your ride, including a carbon-fiber composite hood air extractor that reduces lift. You'll also love the Performance Data Recorder, which helps you improve your driving skills and track time.
Inside, the Camaro's driver-centric cockpit is designed to enhance your ride. The flat-bottom, suede-wrapped steering wheel optimizes ride control and adds a touch of interior luxury. The Recaro front sport seats capitalize on comfort and support, providing a snug fit during spirited rides. You'll never lack for elbow room, which gives you the ability to make quick shifts whenever necessary.
The Used 2017 Chevrolet Camaro ZL1 cabin is also big on tech features. Modern drivers can keep up with friends without a second thought, thanks to Apple CarPlay and Android Auto smartphone connectivity. This technology displays important apps – like Phone, Messaging, and Music – on the Camaro's central touchscreen. You can also access them through voice controls, which means you can alter infotainment settings with both eyes on the road ahead. The cabin also provides a Wi-Fi hotspot, so passengers can connect devices and surf the Web during long highway rides.
Finally, the Chevrolet Camaro ZL1 treats you to a long list of safety features. The OnStar telematics system helps you out of unexpected jams – thanks to items like on-demand roadside assistance and automatic collision alert. High-tech gear – including forward collision alert – actively monitors nearby traffic and warns you of potential problems. Use the rearview camera to enhance visibility as you back out of cramped parking spaces.

Camaro ZL1 Muscle
The Used 2017 Chevrolet Camaro ZL1 is a one-of-a-kind muscle car, with plenty to offer for drivers who crave speed and world-class performance. The supercharged engine will get you off to a quick start, and cutting-edge hardware maximizes your overall ride. Inside, the Camaro ZL1 is driver-centric and luxurious. High-tech gadgets give you quick access to smartphone features and contemporary safety systems. Feel the power of the Camaro ZL1 on a test drive today!

Racetrack-Ready Design
Get ready to challenge the world's most advanced sports cars.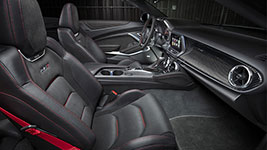 Performance-Oriented Cockpit
Enjoy modern, performance-centric comfort and support.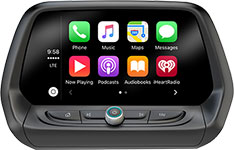 Apple CarPlay & Android Auto
Access smartphone apps on the Camaro's central touchscreen.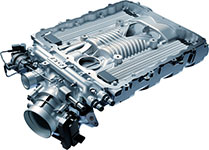 640 Horsepower
The ZL1 is the fastest Camaro to ever hit the pavement.