Used 2016 Chevrolet Volt

The redesigned Used 2016 Chevrolet Volt is a best-in-class plug-in hybrid that provides an excellent all-electric range, roomy interior, and modern tech features. Unlike competitors, the Volt can travel on up to 50 miles on battery power alone. You can expect excellent monthly fuel costs, thanks to the 400-plus-mile maximum range. Inside, seating is spacious and comfortable, and modern features keep you connected on the go. Come in and take a Chevrolet for a spin today!
Used 2016 Chevrolet Volt
Under the hood, the Used 2016 Chevrolet Volt uses a plug-in hybrid system made up of twin electric motors and a 1.5-liter gasoline-powered engine. The electric motors derive their power from a rechargeable 18.4 kWh lithium-ion battery pack. While driving, the regenerative braking feature partially restores battery power, recycling unused energy from the braking process. When the battery is depleted, the gasoline engine starts, acting mostly as a generator for the battery pack. According to EPA estimates, the Volt can travel 53 miles on battery power alone. When the engine starts, you'll achieve 43 city/42 highway mpg or 102 MPGe. With a full battery and tank of gas, you can travel 420 miles.
Use driving modes like Normal, Sport, Hold, and Mountain to improve the Volt's overall performance in any terrain. A "Regen on Demand" paddle on the steering wheel lets you adjust deceleration and the amount of regenerative braking energy sent to the battery pack. Plug into a standard 120-volt to completely recharge the Volt battery in 13 hours. At a dedicated 240-volt charging station, you can cut that time down to 4.5 hours.
On the road, the Used 2016 Chevrolet Volt outclasses the competition. Acceleration is impressively quick, and it offers smooth, comfortable ride over rough pavement. From the cabin, you'll enjoy a quiet ride, with little wind or road noise. Down winding roads, the Volt is controlled and even feels sporty around curves.
Besides excellent fuel economy and driving dynamics, the Used 2016 Chevrolet Volt offers excellent safety standards. The OnStar system helps you maintain world-class passenger protection with features like automatic collision notification. Its pedestrian safety signal alerts pedestrians to the Volt's near-silent approach. High-tech systems scan your surroundings and alert you to possible danger. These systems include forward collision mitigation with automatic braking.
Inside the Used 2016 Chevrolet Volt, you couldn't ask for a more comfortable cabin. The Used 2016 model provides room for up to five passengers, with head- and legroom to spare. From behind the wheel, you'll enjoy excellent support. There are 10.6 cubic feet of cargo space behind the rear seats, and the Volt's hatchback design makes it easy to load and unload items. High-tech features keep you connected on the go. The MyLink infotainment interface provides Bluetooth for hands-free calls or audio streaming. With Apple CarPlay, iPhone users can access important apps safely.

Volt Premier
The top-trim Volt comes standard with a wide range of comfort and convenience features. Its heated front seats and steering wheel offer a cozy ride during the winter months. With leather upholstery, the Premier feels upscale and luxurious. Add the Driver Confidence package to enjoy a suite of driver safety aids, including blind spot monitoring and lane departure warning.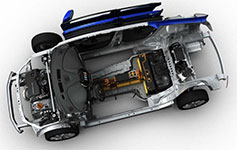 Electric Power
Travel 53 miles on electricity alone.

Sleek Modern Cockpit
The MyLink infotainment system and crisp gauge graphics give the dash a high-tech feel.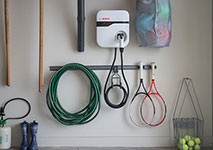 Quick Charging
Use a 240-volt charging station to replenish the battery in just 4.5 hours.

4G LTE Wi-Fi
Surf the Web from wherever you are.
Conclusion
When it comes to hybrid power, there's no better option than the Used 2016 Chevrolet Volt. With a full battery and gas tank, you'll travel 420 miles nonstop. The Volt is also big on safety and interior comfort and convenience. High-tech items scan your surroundings and alert you to danger. Infotainment features keep you connected, no matter how far you are from home. Seating is always spacious and comfortable. Take the Volt for a test drive today!