Used 2016 Chevrolet Silverado 2500HD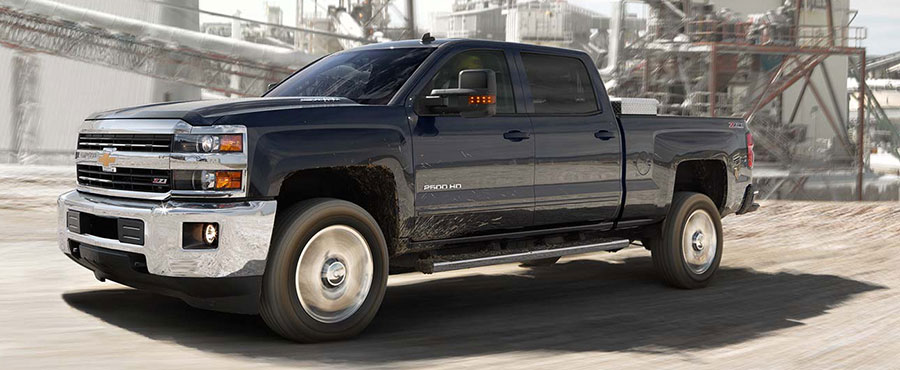 The Used 2016 Chevrolet Silverado 2500HD is a heavy-duty pickup truck that's built to tow and haul titanic cargo. When you require major power, the Silverado 2500HD steps up to the task at hand. Use it to tow up to 18,000 pounds. Inside, the Silverado 2500HD continues to impress with its spacious, refined cabin. Modern features, like the Wi-Fi hotspot, keep you connected and protected.
Used 2016 Chevrolet Silverado 2500HD
Choose the Used 2016 Chevrolet Silverado 2500HD to tackle major cargo. The base engine is a 6.0-liter V8 that produces 360 horsepower and 380 pound-feet of torque. With that kind of output, it's easy to transport massive loads to and from your work site. If you require even greater power, test-drive the 6.6-liter turbodiesel V8 engine. It's rated for 397 horses and 765 pound-feet of torque to maximize the Silverado 2500HD performance. Properly equipped, this truck can tow max loads of 18,000 pounds. Depending on configuration, the Silverado 2500HD can haul up to 3,534 pounds.
On the road, the Silverado 2500HD is more than merely powerful – it's smooth and refined. Around turns, steering feels precise and controlled. The Digital Steering Assist system helps you navigate multi-point turns. Because this pickup is designed to tow a lot of weight, the engine lineup tackles big trailers and cargo items without feeling strained. At highway speeds, the Silverado 2500HD cabin is peaceful and quiet.
The Used 2016 Chevrolet Silverado 2500HD is a heavy-duty pickup truck that delivers all the latest safety gear. The OnStar telematics system means an added layer of protection, with features like automatic crash notification and on-demand roadside assistance. Use the rearview camera to hitch a trailer safely and effectively. Advanced systems, such as lane-departure warning and rear parking sensors, alert you to potential danger. Antilock disc brakes help you make strong stops when you've got heavy loads in tow.
Inside, the Silverado 2500HD has never been more luxurious. Niceties like leather upholstery and heated, ventilated front seats maximize passenger comfort, no matter the season. Choose from a range of cabin configurations – regular, standard, and crew – for the passenger space you require. The crew cabin is a great pick if you require a roomy backseat – here passengers enjoy expansive head- and legroom.
Drivers can't help but be impressed by the Silverado's modern features lineup. Inside, a 4G LTE Wi-Fi connection means you can surf the Web on up to seven devices. This year, Android Auto and Apple CarPlay maximize smartphone integration options, so it's easy to construct voice-to-text messages or stream music from your favorite apps. Remote entry and ignition mean you can simply hop in the Silverado and drive away. With the 110-volt power outlet, your laptop will always be fully charged and ready for action.

Silverado 2500HD High Country
For a Silverado 2500HD model that delivers as much luxury as power, check out the High Country. It's fully stocked with comfort and convenience features that enhance your ride to work. The Bose stereo system provides sharp, clear audio. Exclusive leather upholstery sets a stylish tone. The navigation system helps you explore new territory.

4G LTE Wi-Fi Hotspot
Surf the Web from anywhere.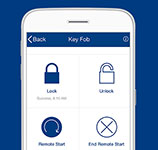 OnStar RemoteLink
Connect to your Silverado remotely using this helpful smartphone app.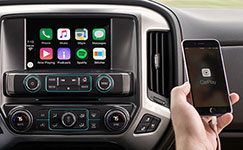 MyLink Infotainment
These apps keep you informed, entertained, and connected.

High-Strength Safety
The Silverado 2500HD offers world-class safety precautions.
Conclusion
The Chevrolet Silverado 2500HD is the perfect pick for drivers who require maximum utility and crave interior refinement. Inside, the Silverado 2500HD is spacious and supportive, with a range of modern features to enhance overall comfort. High-tech conveniences, including a mobile Wi-Fi hotspot, keep you connected from the highway. Of course, the Silverado's main draw is its powerful engine lineup, which helps you tow and haul gargantuan loads. Take the Silverado for a test drive today!