Used 2016 Chevrolet Corvette Stingray

The Used 2016 Chevrolet Corvette Stingray is a sleek, stylish roadster that delivers world-class power for a thrilling ride. The engine provides up to 460 horses for heart-stopping performance. On the road, the Corvette excels, offering nimble responses and a comfortable trip. Inside, you'll enjoy luxurious leather seating. Modern gadgets keep you connected, no matter where you travel. Advanced safety gear ensures excellent passenger protection. Come in and test drive a Chevrolet today!
Used 2016 Chevrolet Corvette Stingray
The Used 2016 Chevrolet Corvette Stingray derives its power from a first-rate 6.2-liter V8 engine that provides 455 horsepower and 460 pound-feet of torque. Add the performance exhaust system to boost engine output to 460 horses and 465 pound-feet of torque. Choose between a manual and automatic transmission with paddle shifters. The seven-speed manual transmission is a great choice for racing enthusiasts. The eight-speed automatic transmission offers a smooth, carefree ride. Its paddle shifters give you excellent control over performance. With the Z51 Performance Package, the manual-equipped Stingray goes from zero to 60 in a mere 3.8 seconds. Choose the automatic transmission to bring that number to 3.7 seconds.
On the road, the Stingray is truly impressive. As you zip around corners, you'll feel the Stingray's substantial grip on the road. The brakes also prove themselves in a pinch, coming to a stop from 60 mph in just 107 feet. The Stingray also balances its outstanding power with modern fuel economy. With the seven-speed transmission, the Corvette Stingray earns 17 city/29 highway mpg.
Inside, the Stingray cockpit treats passenger and driver to support, luxury, and modern conveniences. All three trim models – 1LT, 2LT, and 3LT – offer leather upholstery for maximum comfort. Seating provides plenty of support for lengthy commutes. The flat-bottom steering wheel helps you feel a greater connection to the Corvette's on-road performance. Choose from a variety of interior trims to create a cabin that speaks to you – including Napa leather, aluminum, carbon fiber, and micro-suede.
When it comes to modern technology, the Stingray doesn't disappoint. The standard MyLink system now offers impressive smartphone integration features. Apple CarPlay, for example, lets you access iPhone features like Phone, Messages, and Maps, on the central touchscreen display. MyLink also provides its own music and media features, accessible via voice and touch controls. The in-car 4G LTE Wi-Fi hotspot means you can surf the Web on up to seven devices.
With the Used 2016 Chevrolet Corvette Stingray, you can count on serious safety standards. The standard OnStar system offers a wealth of helpful features, including on-demand roadside assistance. OnStar's turn-by-turn helps you explore new territory without losing your way. OnStar Vehicle Diagnostics runs monthly checks of your Stingray's antilock brakes, transmission, and engine, ensuring optimal performance. RemoteLink key fob services let you start, lock, and unlock the Corvette remotely.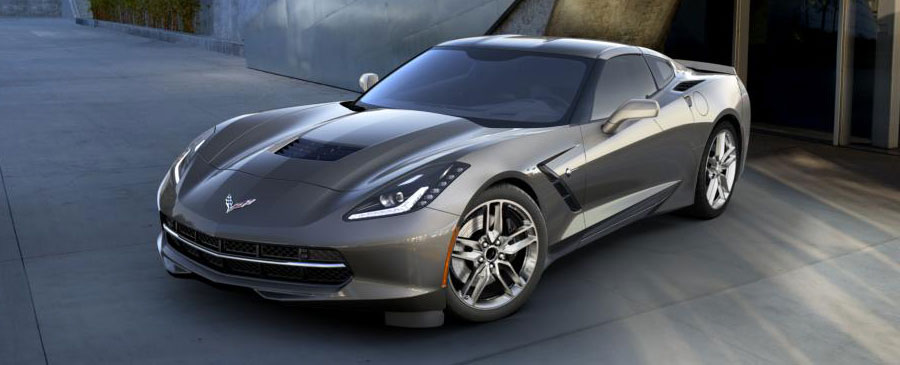 Corvette Stingray 3LT
If you want to take passenger comfort and convenience to the max, test-drive the Corvette Stingray 3LT. It comes standard with a wide range of luxury items, including heated and ventilated front seats. Upgraded leather upholstery creates a truly upscale vibe. The standard head-up display projects tachometer information onto the windshield, so there's no need to look away from traffic.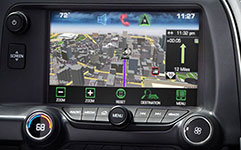 MyLink Infotainment
Use voice controls to access music and media apps.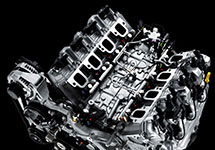 World-Class Performance
Get up to speed in no time, with up to 460 horses at your beck and call.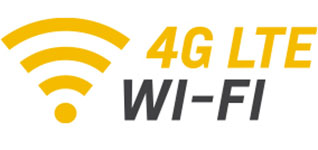 4G LTE Wi-Fi
Surf the Web from anywhere.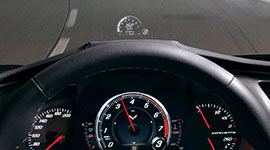 Head-Up Display
Take in vital information without ever having to away from traffic.
Conclusion
If you crave speed, style, and luxury, the Used 2016 Chevrolet Corvette Stingray is a best-in-class option. On the road, it performs with aplomb, providing responsive gearshifts and sharp steering – not to mention world-class engine power. Inside the cockpit, you've got a wide range of modern gadgets at your fingertips, keeping you safe and connected. Seating is supportive, comfortable, and spacious. Come in and test drive the Stingray today!