Used 2016 Chevrolet Camaro

The Used 2016 Chevrolet Camaro is an iconic pony car that was newly redesigned to enhance power, performance, and style. Its engine lineup delivers top-notch power to create swift acceleration. Handling is more responsive than ever, thanks to a new chassis design. Outside, the Camaro exterior is sleek and bold. Inside, you'll enjoy high-tech conveniences and spacious seating. Come in and test drive a used Camaro today!
Used 2016 Chevrolet Camaro
Under the hood, the Used 2016 Chevrolet Camaro offers updated engines for enhanced power and fuel economy. Its revised 3.6-liter V6 engine delivers 355 horsepower and 284 pound-feet of torque, giving you access to plenty of speed. For even greater output, test-drive the 6.2-liter V8 engine. With 455 horses and 455 pound-feet of torque, you'll enjoy heart-stopping acceleration. This year, the Camaro's new 2.0-liter four-cylinder engine offers the perfect blend of fuel economy and power. It generates 275 horses and 295 pound-feet of torque. Chevrolet estimates that it will achieve up to 30 mpg on the highway. This engine helps the Camaro go from zero to 60 in under 6 seconds. Choose between a six-speed manual and eight-speed automatic transmission with paddle shifters.
The Used 2016 Chevrolet Camaro is big on performance. It featured a new chassis designed after that of the Cadillac CTS. With it, the Camaro offers responsive handling and an impressively sporty ride. The new exterior structure is 30 percent more rigid and overall bodyweight is down by 200 pounds. The combination of these two factors creates a swift, refined ride. Use the selectable drive modes to enhance performance in a variety of circumstances. Choose between snow/ice, tour, sport, and track modes. Selecting the correct setting enhances acceleration, steering, transmission, and traction settings. The Magnetic Ride Control active suspension creates a truly athletic experience.
Choose between two initial trim models: the LT and SS. Both deliver an excellent range of comfort and convenience features. The cabin is modern, refined, and spacious. High-quality materials set a stylish tone. Modern conveniences, like the MyLink infotainment system, keep you connected on the go. The analog dials are paired with a configurable gauge cluster, giving you quick access to vital ride information. Interior ambient lighting gives the cabin an elegant glow during nighttime drives.

Camaro Tradition
Outside, the Used 2016 Chevrolet Camaro is both sleek and bold, and its updated look is sure to turn heads. The latest rendition is instantly recognizable as being both part of the iconic Camaro tradition and a brand new model.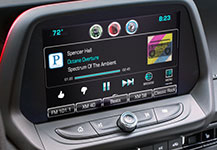 MyLink Infotainment
These apps keep you informed, entertained, and connected.

Wireless Charging Mat
Cell battery running low? Charge it as you drive.

Stylish Interior
Enjoy a sculpted, refined cabin.

Sporty Exterior
The new Camaro offers an unlimited supply of style.
Conclusion
If you're a fan of the Used 2016 Chevrolet Camaro's muscular style and swift performance, you simply must test-drive the 2016 model. Its refined design means it handles better than ever before, creating an athletic ride. The enhanced engine lineup offers greater power for impressive acceleration. You can also expect improved fuel economy, saving you money at the pump. The newer exterior style extends the Camaro's iconic tradition. Come in and test drive the Camaro today!