Used 2015 Chevrolet Volt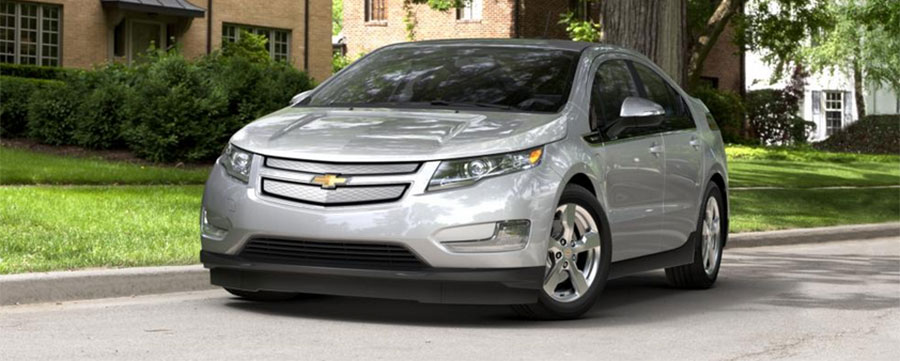 The Used 2015 Chevrolet Volt is an impressive hybrid hatchback that delivers a best-in-class all-electric range. The Volt offers a 300-plus-mile maximum range. No matter what, drivers can expect low monthly fuel costs. The Volt also provides a compliant ride and responsive steering. A wide range of standard features creates a comfortable, convenient ride. Safety equipment maximizes passenger protection.
Used 2015 Chevrolet Volt
The Used 2015 Chevrolet Volt comes standard with an impressive range of comfort and convenience features. An in-car Wi-Fi connection transforms the Volt into a mobile hotspot, giving passengers the ability to connect up to seven devices. Keyless entry and ignition lets key-holders simply get in and drive. Remote ignition lets drivers warm the Volt up without leaving the house. The MyLink system gives users access to a wide range of apps via a 7-inch color touchscreen.
Shoppers can add a wide range of luxury features to enhance passenger comfort. Available leather upholstery maximizes interior style. The rearview camera makes backing up a snap. The navigation system makes it easy to explore unknown territory.
Inside, the Chevy Volt's wide range of high-tech features sets a modern tone. The gauge cluster has a futuristic feel, with digital speed, battery, and fuel-level displays. The interior is refined, thanks to its impressively high-quality materials. Drivers can count on comfortable, supportive seating, which is great for long commutes or road trips. In back, the hatchback offers 10.6 cubic feet of cargo space. Its rear design makes loading and unloading simple.
The Used 2015 Chevrolet Volt derives its fuel-efficient power from an electric motor that generates 149 horsepower and 273 pound-feet of torque. The electric motor runs on a 16 kilowatt-hour lithium-ion battery pack. When the battery charge is 70 percent depleted, the Volt's 1.4-liter four-cylinder gas-powered engine kicks in to power the electric motor.
Drivers can switch between various performance modes – Normal, Hold, Sport, and Mountain – to maximize on-road capabilities. Hold mode locks out all-electric power unless it becomes necessary, giving drivers greater control over performance.
It's easy to recharge the Chevy Volt's battery with a 120- or 240-volt outlet. The latter power source replenishes the battery in just three hours. On the road, the Volt's regenerative braking and engine generator maximize battery use.
On the road, the Volt creates a rewarding experience. Its power is potent, whether in all-electric or hybrid mode. Drivers can expect a quiet, compliant ride. The steering is responsive and drivers will barely notice as the Volt switches from all-electric to hybrid power.

Volt Safety
Passengers can also expect big things in terms of safety. In government crash tests, the 2015 Chevrolet Volt earned a perfect five-star rating for overall protection. The Insurance Institute for Highway Safety gave the Volt its top rating of "Good."
Standard safety items like antilock brakes help maximize driver control over problematic road conditions. All Volt models come with OnStar technology, which uses features like automatic crash notification and on-demand roadside assistance to help drivers out of trouble. Shoppers can add high-tech safety systems like forward collision and lane-departure warning to boost driver vigilance.

120V Charging Unit
The standard charging unit fits the average household outlet.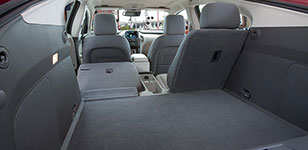 Flexible Cargo Capacity
Lower the split-folding rear seats to expand the cargo hold.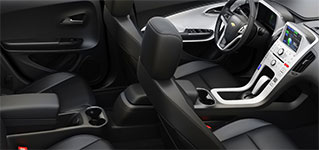 Striking Cockpit
The refined interior sets a stylish tone and maximizes passenger comfort.

Aerodynamic Design
The Volt's low drag coefficient enhances on-road performance.
Conclusion
On the road, the Used 2015 Chevrolet Volt gives drivers the best of both worlds with its all-electric and hybrid capabilities. The Volt can't help but save money at the pump. A wide range of safety equipment works to keep passengers safe from harm. Shoppers can add a variety of high-tech features to create a modern cabin. The Volt's high-quality interior maximizes passenger comfort and support.