2014 Chevrolet Malibu Features
2014 Chevrolet Malibu Features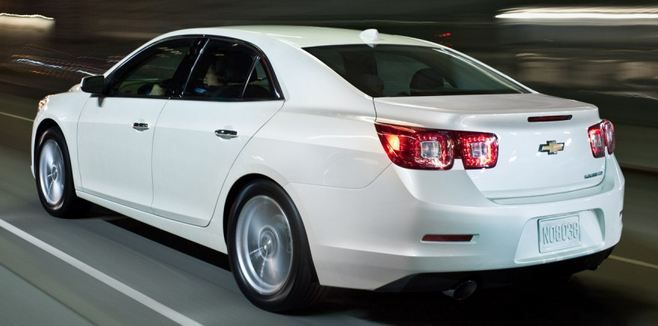 If you are looking for a top-rated car in the Burlington, NJ area that is sure to last you for several years and provide you with all the entertainment, safety, and power features that you want, then you should definitely consider the 2014 Chevy Malibu. This amazing car is designed for everyday consumers and businesspeople alike, and there is no limit to the amount of use and functionality that most people will experience when they drive this vehicle.
2014 Chevy Malibu – Powertrain
The 2014 Chevy Malibu is available in two different engine types: one that runs off of gas and the other that is a hybrid. If you choose the gas-powered option, you can select a standard 2 liter engine, or a 2.5 liter engine if you want better MPG for both the city and highway. Both of the engine models are 4-cylinders, so this may be one of the most fuel-efficient cars that you will find this year.
As far as horsepower is concerned, this car gets approximately 196hp and 186 pounds of torque on the hybrid model, whereas the standard 2.0 liter gas-powered engine gives you 259hp and 295 pounds of torque. If you choose the beefier 2.5 liter engine, you can expect to get approximately 23 mpg in the city and 35 mpg on the highway. Finally, all 2014 Chevy Malibu models come standard with a 6-speed automatic transmission, so almost anyone should be able to drive this car without difficulty.
2014 Chevy Malibu – Interior and Exterior
The interior of the 2014 Chevy Malibu isn't overly fancy, but it still looks good for most drivers. While most of it is comprised of gray plastic, this shouldn't be a problem for most car owners, regardless of whatever exterior color they choose to purchase. The steering wheel is a bit thicker than the 2013 model, and you sit down lower in the center of the seat than you would in most other cars. There are integrated audio and climate control functions, and the seats are designed to give you more knee room.
The exterior of this car boasts 4 different trims: the LS, ECO, LT, and LTZ. Each of these has almost the same standard options, but all of them except for the ECO are turbocharged, which means you may get a bit more horsepower with the other three trim levels. This car is available in a wide array of colors, so whichever you choose is totally up to you.
Safety and Entertainment
As far as safety goes, there is a rearview camera so you can see what is behind you before you begin to back the vehicle. There are also blind zone alerts and rear cross-traffic alerts. Of course, you also have an incorporation of 10 airbags to keep you and all your passengers safe for the lifetime of the vehicle.
Some of the main entertainment features on this car include Bluetooth integration, Pandora Internet Radio, built-in navigation on some models, an AM/FM/CD player, and even a spot to connect a USB cable for your iPod, cell phone, or MP3 player so you can play your music through the car.
Burlington Chevy
If you are looking for one of the best new car models on the market, primarily in the Burlington, NJ area, then you should definitely look into the 2014 Chevy Malibu. With all the features and functions built into this car, it is no small wonder why many people from all walks of life like to drive this car during all seasons for many purposes.
Interested? Make your way to your New Jersey Chevy Dealer, Burlington Chevy, today! Our experts are ready to answer any question you have about this vehicle and set you up with a test drive today!